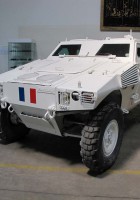 Panhard VBR

Land
Fance
Geben
VBR
Foto
Vladimir Yakubov
Suchen
Musee des Blindes, Saumur
Beschreibung
Album

92

Fotos walk-around von einer «Panhard-VBR»
Foto-Galerie Panhard VBR, The Panhard Véhicule Blindé Léger ("Light armoured vehicle"), also known by its acronym Panhard VBL or simply VBL, is a wheeled 4×4 all-terrain vehicle built by Panhard. The vehicle is offered in various configurations, and was designed to combine the agility of the Peugeot VLTT liaison vehicle with adequate protection against small arms fire, artillery fragments, mines and NBC weapons. VBR: Vergrößerung der VBL Mehrzweck gepanzerten Fahrzeug.
Quelle: Panhard VBR auf Wikipedia
Warten Sie, Suche Panhard VBR-Fotos für Sie...
Warten Sie, Suche Panhard VBR für Sie...
Spezifikationen
Gewicht
3,5 bis 4 Tonnen
Länge
3,80 m
Breite
2,02 m
Höhe
1,70 m
Crew
2-3
Verwandte kits:
Finden kits auf eBay:
Suche auf eBay
Suche für das, was Sie benötigen, Wir empfehlen dies, aber es ist Ihr, die entscheiden
You can see also :
Aufrufe : 1711
Find by:
panhard vbr
panhard vbr wikipedia
vbl panhard suspension
модель панар
панард вбр