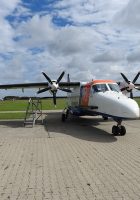 Dornier Do-228

Land
Germany
Rolle
Airliner
Zuerst Fliegen
March 28, 1981
Gebaut
245+125
Die Dornier Do 228 is a twin-turboprop STOL utility aircraft, manufactured by Dornier GmbH (later DASA Dornier, Fairchild-Dornier) from 1981 until 1998. In 1983, Hindustan Aeronautics (HAL) bought a production licence and manufactured 125 aircraft. In Oberpfaffenhofen, Germany, 245 were built, and 125 in Kanpur, India. In July 2017, 63 aircraft were in airline service. In 2009, RUAG started building a Dornier 228 New Generation in Germany with the fuselage, wings and tail unit manufactured by Hindustan Aeronautics Limited (HAL) in Kanpur (India) and transported to Oberpfaffenhofen near Munich, where RUAG Aviation carries out aircraft final assembly, customized equipment installation, product conformity inspection and aircraft delivery. It is basically the same aircraft with improved technologies and performances, such as a new five blade propeller, glass cockpit and longer range. The first delivery was made in September 2010 to a Japanese operator.
Quelle: Dornier Do-228 on Wikipedia
Warten Sie, Suche Dornier Do-228 für Sie...
Dornier Do-228 Walk Around
Fotografen
Cees Hendriks
Lokalisierung
Unknow
Fotos
107
Warten Sie, Suche Dornier Do-228 für Sie...
Verwandte kits:
Dornier Flugzeuge seit 1915
Manfred Griehl
3-613-03106-X
128 pages
Buchen
Clic für die Suche
Dornier Do 228-212 LM Marine Patrol
Revell
04287
1:72
Full kit
Clic für die Suche
Finden kits auf eBay:
Suche auf eBay
Suche für das, was Sie benötigen, Wir empfehlen dies, aber es ist Ihr, die entscheiden
You can see also :
Aufrufe : 824