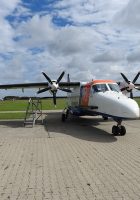 Dornier Do-228

Pays
Allemagne
Rôle
Avion de ligne
Les premiers vols
Le 28 mars 1981
Construit
245+125
L' Dornier Do 228 is a twin-turboprop STOL utility aircraft, manufactured by Dornier GmbH (later DASA Dornier, Fairchild-Dornier) from 1981 until 1998. In 1983, Hindustan Aeronautics (HAL) bought a production licence and manufactured 125 aircraft. In Oberpfaffenhofen, Germany, 245 were built, and 125 in Kanpur, India. In July 2017, 63 aircraft were in airline service. In 2009, RUAG started building a Dornier 228 New Generation in Germany with the fuselage, wings and tail unit manufactured by Hindustan Aeronautics Limited (HAL) in Kanpur (India) and transported to Oberpfaffenhofen near Munich, where RUAG Aviation carries out aircraft final assembly, customized equipment installation, product conformity inspection and aircraft delivery. It is basically the same aircraft with improved technologies and performances, such as a new five blade propeller, glass cockpit and longer range. The first delivery was made in September 2010 to a Japanese operator.
Source: Dornier Do-228 on Wikipédia
Attendez, la Recherche Dornier Do-228 pour vous...
Dornier Do-228 Walk Around
Les photographes
Cees Hendriks
Localisation
Unknow
Photos
107
Attendez, la Recherche Dornier Do-228 pour vous...
Liées kits:
Dornier Avions depuis 1915
Manfred Griehl
3-613-03106-X
128 pages
Livre
Clic pour la Recherche
Dornier Do 228-212 ML Marine Patrol
Revell
04287
1:72
Kit complet
Clic pour la Recherche
Trouver des kits sur eBay:
Recherche sur eBay
À la recherche de ce dont vous avez besoin, Nous vous suggérons de cela, mais c'est vous qui décidez
Vous pouvez voir aussi :
Vues : 813