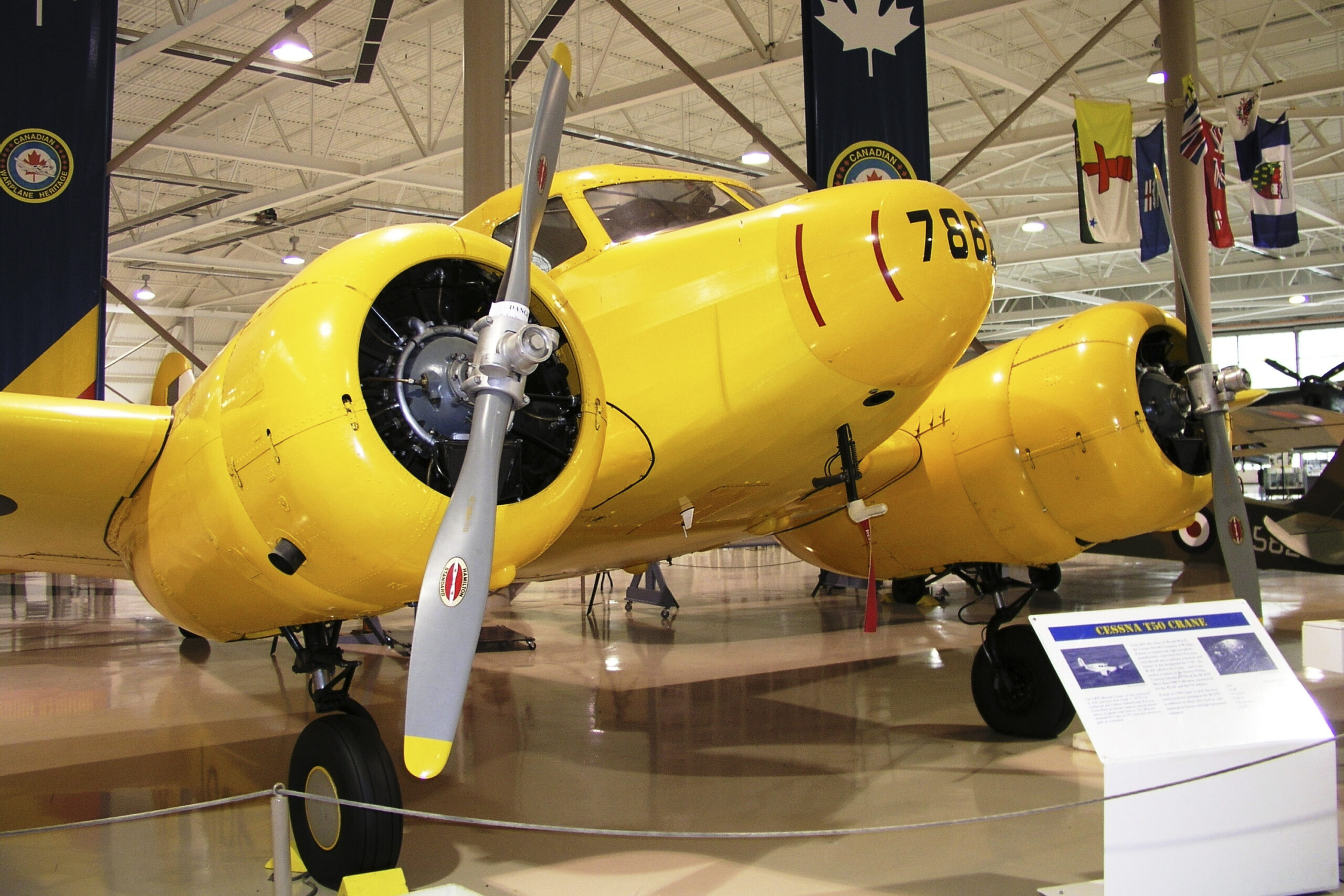 Cessna AT-17 Bobcat

Land
Usa
Rolle
Fünfsitziger Leichttransport
Entworfen
26. März 1939
Gebaut
5422
das Cessna AT-17 Bobcat war ein zweimotoriges Fort-Trainer-Flugzeug, das in den Vereinigten Staaten entwickelt und hergestellt wurde und während des Zweiten Weltkriegs verwendet wurde, um die Lücke zwischen einmotorigen Trainern und zweimotorigen Kampfflugzeugen zu überbrücken. Die AT-17 wurde von zwei Jacobs R-755-9 Radialmotoren angetrieben. Die kommerzielle Version war das Modell T-50, aus dem die AT-17 entwickelt wurde.
Cessna AT-17 (T-50/UC-78B) Bobcat Walk Around
Photographer
Vladimir Yakubov
Localisation
Travis Air Force Base Museum
Photos
114
Warten Sie, Suche Cessna AT-17 Bobcat für Sie...

Finden Sie Kits bei eBay:
Suchen bei eBay
Suchen Sie nach dem, was Sie brauchen, Wir schlagen dies vor, aber Sie sind es, die entscheiden
Cessna T-50 Crane Walk Around
Photographer
Unknow
Localisation
Unknow
Photos
26
Warten Sie, suchen Sie Cessna für Sie...

Zugehörige Kits:
Weitere Informationen:
The Cessna AT-17 Bobcat was a twin-engine advanced trainer aircraft that was designed and manufactured by Cessna Aircraft Company in the United States. It was used during World War II by the US Army Air Forces and other allied air forces to train pilots for multi-engine aircraft. The Bobcat was also known as the Cessna Crane in Canada, where it was used by the Royal Canadian Air Force. The civilian version of the Bobcat was the Cessna T-50, a five-seat light transport and utility aircraft that first flew in 1939. The Bobcat had a low-wing monoplane design with retractable landing gear and electrically operated flaps. It was powered by two Jacobs R-755 radial engines that produced 245 hp each. The Bobcat had a maximum speed of 314 km/h, a range of 1,200 km, and a service ceiling of 6,700 m. The Bobcat could carry up to four passengers or 450 kg of cargo. The Bobcat was also used for liaison, reconnaissance, ambulance, and light bombing missions. A total of 5,422 Bobcats were built between 1939 and 1944.
Ansichten : 1195