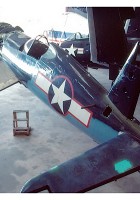 Vought F4U Corsair

Land
USA
Rolle
Carrier-baserede fighter-bomber
Første fly

29 May 1940

Indbygget
12571
Den Vought F4U Corsair is an American fighter aircraft that saw service primarily in World War II and the Korean War. Demand for the aircraft soon overwhelmed Vought's manufacturing capability, resulting in production by Goodyear and Brewster: Goodyear-built Corsairs were designated FG and Brewster-built aircraft F3A. From the first prototype delivery to the U.S. Navy in 1940, to final delivery in 1953 to the French, 12,571 F4U Corsairs were manufactured, in 16 separate models, in the longest production run of any piston-engined fighter in U.S. history (1942–53).
Vent, Søger F4U-1A Corsair billeder til dig...

F4U-1A Corsair
Fotograf
Unknow
Lokalisering
Unknow
Fotos
95
Vent, Søger F4U-1A Corsair for dig...

Relaterede kits: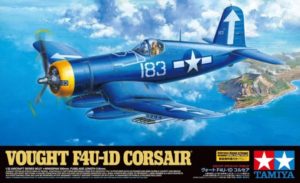 Vought F4U-1 Corsair mere
Tamiya
1:32
Den fulde pakke
Klik her for at Søge
Finde kits på eBay:
Søg på eBay
Søg efter hvad du har brug for, Vi foreslår dette, men det er dig der bestemmer
Du kan også se :
F4U-1A Corsair – WalkAround fra NetMaquettes
Visninger : 9251
At finde ud af:
f4u-1a corsair
F4U corsair walkaround
f4u-1a walkaround
f4u-1 walkaround
f4u corsair walk around
F4u-1A walk around
CORSAIR WALK AROUND
f4u 1 walkaround
F4U 1A Corsair Combat Photos
f4u-1 corsair walkaround
Catalog; Chance / Vought F4U photos wikipedia
chance vought f4u corsair blueprints
F4U-1 Corsair walk around
F-4U walkaround
f4u corsair tamyia
F4U Vaught Corsair Wlkaround
f4u-1a
combat aérien corsair
cnc maquette auto 1/18
f4u-1 walk around