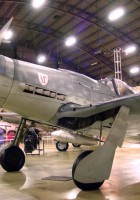 Focke-Wulf Fw 190D-9

Land
Tyskland
Type

Single-engine fighter aircraft

Periode
ww2
Emne

Album

50

photos of a car

Focke-Wulf Fw 190D-9
Den Focke-Wulf Fw 190 Würger was a German single-seat, single-engine fighter aircraft designed by Kurt Tank in the late 1930s and widely used during World War II. Powered by a radial engine, the 190 had ample power and was able to lift larger loads than its well-known counterpart, the Messerschmitt Bf 109. The 190 was used by the Luftwaffe in a wide variety of roles, including day fighter, fighter-bomber, ground-attack aircraft and, to a lesser degree, night fighter.
Kilde: Wikipedia
Wait, Searching Focke-Wulf Fw 190D-9 for you…

Specifications (Fw 190 D-9) :
A side view of the NMUSAF's D-9. One can easily distinguish the D-9 model from earlier variants by the extended nose and tail sections. Data from General characteristics Crew: 1 Length: 10.20 m (33 ft 5½ in) Wingspan: 10.50 m (34 ft 5 in) Height: 3.35 m (11 ft 0 in) Wing area: 18.30 m² (196.99 ft²) Empty weight: 3,490 kg (7,694 lb) Loaded weight: 4,270 kg (9,413 lb) Max. takeoff weight: 4,840 kg (10,670 lb) Powerplant: 1 × Junkers Jumo 213 A-1 12-cylinder inverted-Vee piston engine, 1,287 kW, (1,750 PS) , 1,544 kW (2,100 PS) with boost Performance Maximum speed: 685 km/h (426 mph) at 6,600 m (21,655 ft), 710 km/h (440 mph) at 37,000 ft (11,000 m) Range: 835 km (519 mi) Service ceiling: 12,000 m (39,370 ft) Rate of climb: 17 m/s (3,300 ft/min) Wing loading: 238 kg/m² (48.7 lb/ft²) Power/mass: 0.30–0.35 kW/kg (0.18–0.21 hp/lb) Armament Guns: (all synchronized to fire through propeller arc) 2 × 13 mm (.51 in) MG 131 machine guns with 475 rpg 2 × 20 mm MG 151 cannons with 250 rpg in the wing root Bombs: 1 × 500 kg (1,102 lb) SC 500 bomb (optional)
Related kits:
Find kits on eBay:
Søg på eBay
Search for what you need, We suggest this but it is you who decide
Du kan også se :
Wait, Searching Focke-Wulf Fw 190D-9 for you…

Du kan kommentere her :
Focke-Wulf Fw 190D-9 – Walk Around

fra u/PhilTheNet
Views : 6054