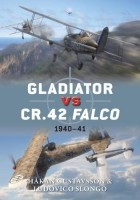 Gladiator vs CR.42 Falco: 1940-41
Hakan Gustavsson
Genre : History
Subjects :
History, Military, World War II
Issue :
17/12/2012
Editor :
Publisher :
Osprey Publishing
Format :
Paperback
Pages :
80
Language :
da
Dimensions :
9.76 x 7.24 x 0.39 in
ISBN-10 :
9781849087087
ASIN :
1849087083
British and Italian biplanes clashed over the Mediterranean at Crete and Malta, and in East and North Africa early in World War II. Both the Gloster Gladiator and the Fiat CR.42 Falco represented the peak in the development of the biplane fighter, which could trace its lineage back to World War I. However, by the time both aircraft entered service in the late 1930s, they were already obsolete. Nevertheless, they gave sterling service on all fronts in the Mediterranean and Africa in 1940-41. Indeed, the CR.42 was the Regia Aeronautica's staple fighter in both North and East Africa, Greece and over Malta in 1940-41, during which time its pilots routinely fought British and Commonwealth squadrons equipped in the main with Gladiator biplanes. Some bitter dogfights were fought between these two types as the Allies attempted to gain control of the skies over North Africa, Greece and East Africa. Both types were flown in the main by highly experienced pre-war pilots, and this in turn made for some closely fought engagements. The first known combat between the CR.42 and the Gladiator took place on 14 June 1940 over North Africa and the last engagement between the two types occurred on 24 October 1941 over the East African front.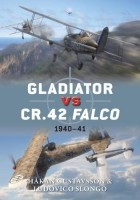 About the Author
Swede Håkan Gustavsson has researched the use of biplane fighters in World War II for many years. He runs one of the internet's oldest and largest aviation sites (surfcity.kund.dalnet.se), featuring biographies of pilots who flew biplane fighters during World War II. He has been in contact with numerous pilot veterans, and their families, over the past two decades, unearthing first-hand accounts and other invaluable material relating to their often forgotten wartime exploits. Ludovico Slongo is a promising aviation historian based in the Italian city of Padova. He has been researching the history of military aviation during World War II for more than 15 years, focusing on pilots, units and operations of the Italian Regia Aeronautica. Together with Håkan Gustavsson, he is working on a number of research projects related to the air war in North Africa and the Mediterranean.