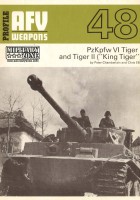 AFV Weapons

Editor
Profile Publications
Title

Tiger I & II – AFV Weapons 48

Ref
48
Description

Revue de 27 pages sur les chars "Tiger I & II"
Le Tiger I (Tiger), diminutive of Panzerkampfwagen VI Tiger Ausführung E – Sonderkraftfahrzeug 181, char d'assaut lourd allemand en service de 1942 à 1945, est l'un des chars les plus connus de la Seconde Guerre mondiale, bien qu'il n'ait été que peu produit par rapport au T-34 soviétique ou au Sherman américain. Ce sont ses dimensions, ses lignes très carrées, sa résistance au combat, sa puissance ainsi que les équipages expérimentés l'ayant mené au feu qui ont marqué les esprits, notamment du fait de la propagande allemande.
Its development began in 1937 and, when he appears for the first time on the front, on 29 August 1942, near Leningrad, the Tiger I est le char techniquement le plus avancé, le mieux protégé et le plus puissant aligné par l'Axe, affichant une mobilité limitée mais exceptionnelle pour un engin qui fait plus de deux fois le poids de ses prédécesseurs et de la majorité de ses adversaires chenillés. Mais le char lourd, outre de sa production faible, a pâti tout au long de sa carrière de sa mécanique très fragile réduisant considérablement sa disponibilité au feu, et qui, avec sa faible autonomie et son poids excessif, compliquait sa mise en œuvre opérationnelle. Construit à seulement 1 350 exemplaires, il n'a été que rarement endivisionné mais plutôt engagé dans des unités indépendantes.
Source: Tiger I & II on Wikipedia
Wait, Searching AFV Weapons 48 for you...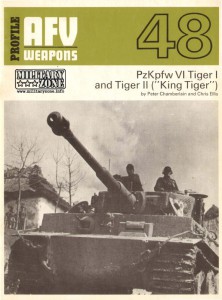 Technical characteristics : Équipage : 5 Longueur : 8,24 m Largeur : 3,73 m Hauteur : 2,88 m Masse au combat : 56,9 tonnes Blindage : 25 à 110 mm Armement principal : 1 Canon 8,8cm Kwk 36 L/56, approvisionné de 92 coups Armement secondaire : 2 à 3 mitrailleuses MG 34 de 7,92 mm, 5 700 balles. Lanceur de grenades/mines/fumigènes sur les premiers exemplaires, lance bombe sur les derniers Moteur : Maybach HL 230 P45 V-12 à essence et refroidissement par eau, cylindrée 23,8 litres 700 ch (514,8 kW) à 3 000 tr/min Suspension : galets imbriqués axés sur barre de torsion Vitesse sur route : 38 km/h (20 en tout terrain) Puissance massique : 11,4 ch/tonne Autonomie : 170 à 200 km sur route et 60 à 120 km en tout terrain
Wait, Searching Tiger Tank for you...
You can see also :
Find items about "tiger tank" on AliExpress:
Views : 340
Find by:
Battle of Arracourt
P-47 サンダーボルト 50 マトリクス
panzer VI
GRIFON DOG XARAKTIRISTIKA
kniha tank tiger
photos panzer VI 1
review totenkopfs panther abteilung
Sdkfz 181 technical
texnika του tiger 1 tank
Tiger II maquette
покраска сборной модели т-34 производства afv - club
AFV german Tiger ank
panzer VI tiger rozměry
panzer tiger i profile
panzer tiger 1 cilindrata
japanese tiger I
cyber hobby 6763 review
barre de torsion pour char E100
AFV Weapons скачать бесплатно
Чертежи танка тигр