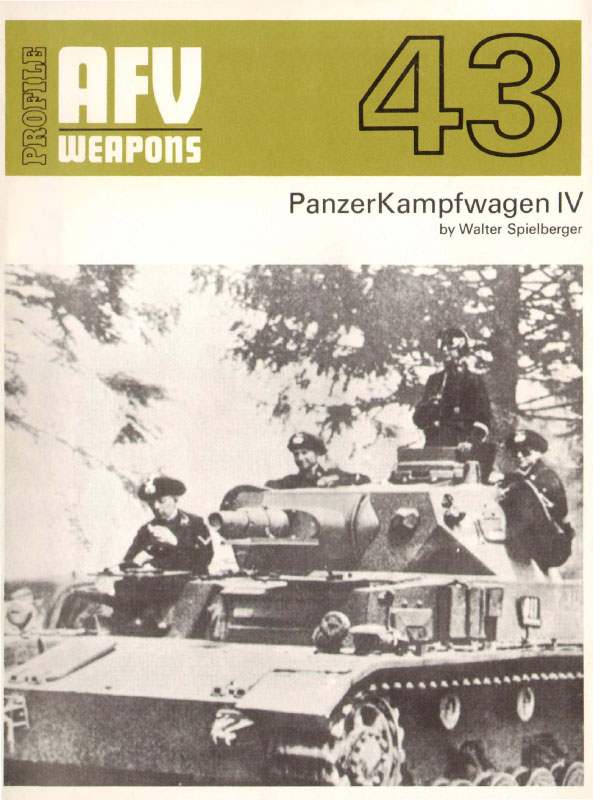 Profile Publications

Series
AFV Weapons
Title
PanzerKampfwagen IV
Réf
43
Description

Tank review "PanzerKampfwagen IV"
The SdKfz 161 Panzerkampfwagen IV (PzKpfW IV), called " Panzer IV was a middle-class tank used by the German army during World War II. Originally designed as a fire support tank and armed with a 75 mm short KwK 37 L/24 gun for the Panzer IV Ausf. A / B / C / D / E / F, it was rearmed with a long anti-tank gun 75 mm KwK 40 L/43 from March 1942 for the Panzer IV Ausf. F2 / G / H / J. the PzKpfW IV was the Panzerwaffe's most widely used tank, with 9,000 copies produced, and it spawned many versions.
Le 11 janvier 1934 la direction de l'armement de la Wehrmacht, le Heereswaffenamt, demanda l'étude d'un char « lourd » (il devint « moyen » avec l'apparition du « Tiger ») pour appuyer les Panzerkampfwagen III « moyens », en cours d'étude eux aussi, en fournissant des tirs anti-personnels grâce à un canon de 75 mm à faible vitesse initiale. Le véhicule ne devait pas excéder la masse de vingt quatre tonnes, pour pouvoir emprunter les ponts de campagne, et être capable d'une vitesse de 35 km/h sur route. En 1935, suite aux essais de différents prototypes, le projet des usines Krupp fut sélectionné pour la construction en série. Le premier PzKpfW IV « A » sortit d'usine en octobre 1937.
Source: Wikipedia
Spécifications techniques : Équipage : 5 (chef de char, pilote, radio, tireur, chargeur) Longueur : 7,02 m (5,92 pour la caisse) Largeur : 2,88 m (3,33 avec les « Schürtzens ») Hauteur : 2,68 m Masse au combat : 25 tonnes Blindage : 80 mm Armement principal : canon de 75 mm KwK 40 L/48 (87 obus) Armement secondaire : deux mitrailleuses MG-34 de 7,92 mm (3150 balles) Moteur : Maybach HL 120 TRM 300 ch ( 220,6 kW) Suspension : Ressort à lames Vitesse sur route : 38 km/h (20 en tout terrain) Puissance massique : 12 ch/tonne Autonomie : 320 km (200 (Ausf. D) et 210 km (Ausf. H)
Wait, Searching AFV Weapons 43 for you…

Find kits on eBay:
Search on eBay
Search for what you need, We suggest this but it is you who decide
[ae_affiliate_byphil keyword="PanzerKampfwagen IV"] ...
Related kits:
Views : 558