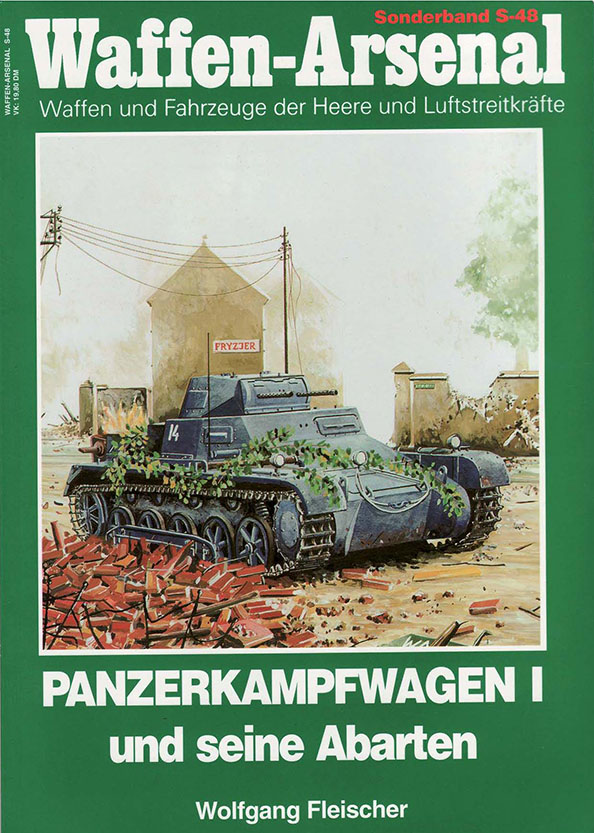 Panzerkampfwagen I and its derivatives

Publisher
Waffen Arsenal
Series
Waffen Arsenal
Réf
S-48
Signed documentation Waffen Arsenal the magazine "Panzerkampfwagen I and its derivatives – Wydawnictwo Militaria Sonderband 48".
Le Panzer I est un char léger allemand, conçut dans les années 1930 et utilisé, lors de la Guerre d'Espagne et au début de la Seconde Guerre mondiale. Il fut le premier panzer réalisé alors que l'Allemagne, suite au traité de Versailles, avait interdiction d'étudier ou de construire des engins blindés, si bien que la première désignation qui lui fut appliquée pour brouiller les pistes, fut bien anodine, Landwirtschaftlicher Schlepper, ou tracteur agricole, mais par la suite il en reçut une plus officielle Panzerkampfwagen I (véhicule de combat blindé I). Il est également connu sous le nom de Sonderkraftfahrzeug 101 (abréviation SdKfz 101) littéralement véhicule spécial à moteur. Il était principalement destiné à servir comme véhicule d'instruction, peu coûteux car légèrement armé et blindé, pour formaliser les nouvelles doctrines de la blitzkrieg, mais les retards sur les modèles suivants contraignirent les allemands à l'utiliser au combat. Il constitua ainsi les gros des panzerdivisions, lors des campagnes de Pologne et de France, mais fut rapidement retiré des premières lignes et converti à d'autres usages, principalement comme tracteur pour des canons sur roues. Son équipage se composait d'un conducteur et d'un commandant qui était également tireur. Il possédait deux mitrailleuses de calibres 7,92 mm. La faible épaisseur de son blindage n'était efficace que contre l'infanterie légère. Pour un poids de près de 5 tonnes, le moteur de 100 chevaux était nettement insuffisant et sa consommation de près de 120l les 100km trop importante. En dépit de ses faibles performances de combat, l'expérience du "Panzer I" s'avéra précieuse lorsqu'il fallut développer des chars plus puissants et la plupart des équipages de "Panzers" furent formés sur ce char.
Source: Wikipedia
Wait, Searching Waffen Arsenal Sonderband 48 for you…

Wait, Searching Panzerkampfwagen I for you…

Views : 570