Waffen Arsenal

Series
Waffen Arsenal
Subject

Panther – PzKpfw V Sdkfz.171

Réf
012
A documentation signed Waffen Arsenal la revue "Panther – Waffen Arsenal 012" .
The Panther is a medium tank used extensively by the German army during the Second world War, from the middle of the year 1943. Designed to counter the tank T-34 soviet, in which he had largely inspired, and replace the Panzerkampfwagen III and Panzerkampfwagen IV, he served in the final at their sides, until the end of the war. Up to an order of Adolf Hitler, dated 27 February 1944, it was designated as the PzKpfw V Panther and, in the inventory of a prescription, such as SdKfz 171.
Source: Wikipedia
Wait, Searching Waffen Arsenal 012 for you...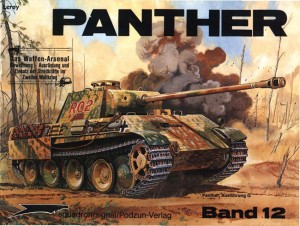 Wait, Searchingtank Panther for you…

[AFG_gallery lestags='panther']
You can see also :
Find items about "tank Panther 1:35" on AliExpress:
Views : 317