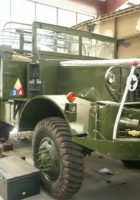 Mack NO 7½-ton 6×6 truck

Landet
USA
Roll

7 1⁄2-ton 6×6 Prime mover

Producerade
1943-1945
Byggt

2050
Den Mack NO 7 1/2 ton 6×6 truck was a heavy 6×6 cargo truck designed in the 1940s by the American manufacturer Mack Trucks. It was used by the U.S. Army as an artillery tractor for heavy artillery during and after World War II. The official U.S. Army designation was: Truck, 7 1/2 ton, 6×6, Prime Mover. Its G-number was (G-532).
Wait, Searching Mack NO 7½-ton 6×6 truck for you…
Mack NO 7.5 tons Walk Around

Fotograf
Vladimir Yakubov
Läge
Unknow
Foton
182
Wait, Searching Mack NO 7½-ton 6×6 truck for you…
Relaterade kit:
Hitta kit på eBay:
Sök på eBay
Sök efter vad du behöver, Vi föreslår detta, men det är du som bestämmer
Du kan också se :
Du kan kommentera här :
Mack NO 7½-ton 6×6 truck

från NetMaquettes
Visningar : 939