Heinkel He 100

Landet
Nazistiska Tyskland
Roll
Fighter
Första flygningen
22 januari 1938
Byggt
25
Den Heinkel He 100 was a German pre-World War II fighter aircraft design from Heinkel. Although it proved to be one of the fastest fighter aircraft in the world at the time of its development, the design was not ordered into series production. Approximately 19 prototypes and pre-production examples were built. None are known to have survived the war. The reason for the He 100 failing to reach production status is mostly unknown. Officially, the Luftwaffe rejected the He 100 to concentrate single-seat fighter development on the Messerschmitt Bf 109. Following the adoption of the Bf 109 and Messerschmitt Bf 110 as the Luftwaffe's standard fighter types, the Ministry of Aviation (the Reichsluftfahrtministerium or RLM) announced a "rationalization" policy that placed fighter development at Messerschmitt and bomber development at Heinkel.
Källa: Heinkel he 100 på Wikipedia
Vänta, Söker Heinkel he 100 för dig...

Heinkel He 100 D-1 Promenad Runt
Fotograf
Cees Hendriks
Läge
Unknow
Foton
23
Vänta, Söker Heinkel he 100 för dig...

Relaterade kit: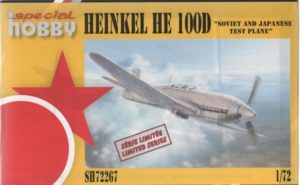 Special Hobby
SH72267
1:72
Full kit
Klicka för att Söka
Hitta kit på eBay:
Sök på eBay
Sök efter vad du behöver, Vi föreslår detta, men det är du som bestämmer
Du kan också se :
Visningar : 1355
Hitta genom att:
he-162 salamander
хе 112б истребитель