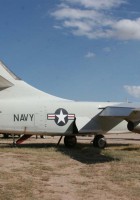 Douglas A-3 Skywarrior

Landet
USA
Typ
Strategiska bombplan
Första flygningen
28 oktober 1952
Byggt
282
Fotogalleri från en
Douglas A-3 Skywarrior
, The Douglas A-3 Skywarrior was designed as a strategic bomber for the United States Navy and was among the longest serving carrier-based aircraft in history. It entered service in the mid-1950s and was retired in 1991. Throughout its service, it was the heaviest operational aircraft to operate from aircraft carriers, earning its nickname, "The Whale." Its primary function for much of its later service life was as an electronic warfare platform, tactical air reconnaissance platform, and high capacity aerial refueling tanker.
Källa:

Douglas A-3 Skywarrior på Wikipedia
Vänta, Söker Douglas A-3 Skywarrior bilder för dig...

Douglas A-3 Skywarrior
Fotograf
Bill Spidle
Läge
Unknow
Foton
56
Vänta, Söker Douglas A-3 Skywarriorfor du...

Douglas EKA-3B Whale Walk Around
Fotograf
Vladimir Yakubov
Läge
Västra Aerospace Museum
Foton
58
Douglas EA-3B Skywarrior Walk Around
Fotograf
Vladimir Yakubov
Läge
USS Yorktown CV-10
Foton
185
Relaterade kit:
ERA-3B Skywarrior
Trumpetaren
02873
1:48
Full kit
Klicka för att Söka
Douglas ERA-3B Skywarrior Walk Around
Fotograf
Vladimir Yakubov
Läge

Castle Air Museum, Atwater

Foton
131
Hitta kit på eBay:
Sök på eBay
Sök efter vad du behöver, Vi föreslår detta, men det är du som bestämmer
Du kan också se :
Douglas A-3 Skywarrior – Gå Runt från r/NetMaquettes
Visningar : 2708
Hitta genom att:
3a whale us navy
a-3 skywarrior picture
A-3 SKYWARRIOR WALKAROUND PICTURE
douglas skywarrior
doubt6i3
A3 Skywarrior walkaround
a3 skywarrior
A-3 SKYWARRIER 48 PLANE MODEL PICTURE
A-3 sky warier walk around
promised5dt