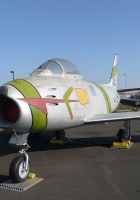 Nord-Amerikanska F-86 Sabre

Landet
USA
Roll
Stridsflygplan
Första flygningen

1 October 1947

Byggt

9860
Den Nord-Amerikanska F-86 Sabre, sometimes called the Sabrejet, was a transonic jet fighter aircraft. Produced by North American Aviation, the Sabre is best known as the United States' first swept wing fighter that could counter the similarly-winged Soviet MiG-15 in high-speed dogfights over the skies of the Korean War (1950–1953). Considered one of the best and most important fighter aircraft in that war, the F-86 is also rated highly in comparison with fighters of other eras. Although it was developed in the late 1940s and was outdated by the end of the '50s, the Sabre proved versatile and adaptable, and continued as a front-line fighter in numerous air forces until the last active operational examples were retired by the Bolivian Air Force in 1994.
Vänta, Söker Nord Amerikanska F-86 Sabre bilder för dig...

North American F-86 Sabre
Fotograf
Vladimir Yakubov
Läge
Aerospace Museum of California
Foton
96
Vänta, Söker Nord Amerikanska F-86 Sabre för dig...

Nordamerikanska F-86F Sabre Gå Runt
Fotograf
Andrej Zinchuk
Läge
Armén och Militära Historia, Bryssel
Foton
34
F-86 Sabre Gå Runt
Fotograf
Jeff Herne
Läge
Unknow
Foton
23
Relaterade kit:
North American F-86D Sabre Dog Walk Around
Fotograf

Michael Supko

Läge
Unknow
Foton
21
Hitta kit på eBay:
Sök på eBay
Sök efter vad du behöver, Vi föreslår detta, men det är du som bestämmer
Du kan också se :
North American F-86H Sabre Walk Around
Fotograf
Cees Hendriks
Läge
Unknow
Foton
29
Du kan kommentera här :
Nord-Amerikanska F-86 Sabre – Gå Runt från NetMaquettes
Visningar : 2994
Hitta genom att:
f-86f photos
3D cockpit F-86
JAPAN retire F-86F
f86 cockpit walkaround
F-86F walk around
F-86F 000
f-86 сейбр walkaround
f-86 sabre walkrounds
f-86 bmf walkaround
f 86f sabre bundeswehr walk around
f 86 sabre walkaround korea
walkaround on f-86f