M8 Greyhound

Landet
USA
Roll
Pansarbil
I tjänsten

1943–present

Byggt

8523
Den M8 Lätta Bepansrade Bil is a 6×6 armored car produced by the Ford Motor Company during World War II. It was used by the United States and British troops in Europe and the Far East until the end of the war. The vehicle was widely exported and as of 2006 still remained in service with some Third World countries.
Källa: M8 Greyhound ons Wikipedia
M8 Greyhound
Fotograf
Unknow
Läge
Unknow
Foton
133
Vänta, Söker M8 Greyhound för dig...

M8 Greyhound Walk Around
Fotograf
Vladimir Yakubov
Läge
Military Museum i Södra New England
Foton
47
Vänta, Söker M8 Greyhound för dig...

Relaterade kit: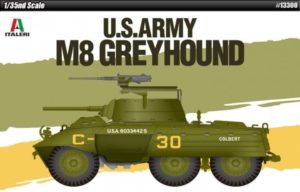 M8 Greyhound
Academy
13300
1:35
Full kit
Klicka för att Söka
Hitta kit på eBay:
Sök på eBay
Sök efter vad du behöver, Vi föreslår detta, men det är du som bestämmer
Du kan också se :
Du kan kommentera här :
M8 Greyhound – Gå Runt från r/NetMaquettes
Views : 5042
Hitta genom att:
M8 greyhound
Hercules JXD Engine
m 8 greyhound
M8グレイハウンド
M8 グレイハウンド
m8 greyhound te koop
m8 greyhound gun
ford m8 walk around
gun m8 greyhound
m8 greyhund dragon models
m8 greyhound for sale
greyhound m8 models 1/35 scale interior pictures
M8 walkaround
blinde m8
M8 Greyhound zoeken
Greyhound de Bronco
m8 greyhound interior
model kolový transportér m8 greyhound
ford m8 greyhound
fotos de un m8 greyhound en la ii guerra mundial