M8 Greyhound

Land
USA
Rolle
Pansret bil
I tjeneste
1943–nåværende
Bygget

8523
Den M8 Lett Pansret Bil is a 6×6 armored car produced by the Ford Motor Company during World War II. It was used by the United States and British troops in Europe and the Far East until the end of the war. The vehicle was widely exported and as of 2006 still remained in service with some Third World countries.
Kilde: M8 Greyhound ons Wikipedia
M8 Greyhound
Fotograf
Ukjent
Beliggenhet
Ukjent
Bilder
133
Vente, Søke M8 Greyhound for deg...

M8 Greyhound Walk Around
Fotograf
Vladimir Yakubov
Beliggenhet
Military Museum Sørlige New England
Bilder
47
Vente, Søke M8 Greyhound for deg...

Relaterte kits: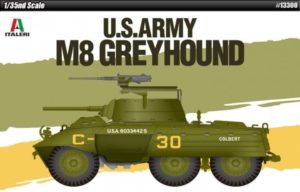 M8 Greyhound
Academy
13300
1:35
Full kit
Clic for Søk
Finn sett på eBay:
Søk på eBay
Søk etter hva du trenger, Vi foreslår dette, men det er du som bestemmer
Du kan se også :
Du kan kommentere her :
M8 Greyhound – Gå Rundt fra r/NetMaquettes
Visninger : 5042
Søk etter:
M8 greyhound
Hercules JXD Engine
m 8 greyhound
M8グレイハウンド
M8 グレイハウンド
m8 greyhound te koop
m8 greyhound gun
ford m8 walk around
gun m8 greyhound
m8 greyhund dragon models
m8 greyhound for sale
greyhound m8 models 1/35 scale interior pictures
M8 walkaround
blinde m8
M8 Greyhound zoeken
Greyhound de Bronco
m8 greyhound interior
model kolový transportér m8 greyhound
ford m8 greyhound
fotos de un m8 greyhound en la ii guerra mundial