Douglas TF-10B Skyknight

Landet
USA
Typ
Stridsflygplan
Första flygningen

23 March 1948

Byggt
Två hundra sextio-fem
Fotogalleri från en Douglas TF-10B Skyknight, The Douglas F3D Skyknight (later designated F-10 Skyknight) was a United States twin-engined, mid-wing jet fighter aircraft manufactured by the Douglas Aircraft Company in El Segundo, California. The F3D was designed as a carrier-based all-weather night fighter and saw service with the United States Navy and United States Marine Corps. The mission of the F3D was to search out and destroy enemy aircraft at night.
Wait, Searching Douglas TF-10B Skyknight photos for you…
Douglas TF-10B Skyknight
Fotograf
John Fan
Läge
Unknow
Foton
76
Wait, Searching Douglas TF-10B Skyknight you…
Douglas F3D-2 Skyknight Gå Runt
Fotograf
Cees Hendriks
Läge
Unknow
Foton
59
Douglas F3D-2N Skyknight Walk Around
Fotograf
Vladimir Yakubov
Läge
Unknow
Foton
68
Relaterade kit: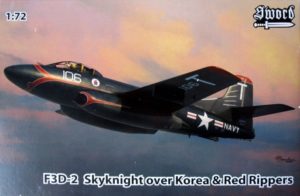 F3D-2 Skyknight VF-11/VMF(N)513
Svärd
1:72
Full kit
Klicka för att Söka
Hitta kit på eBay:
Sök på eBay
Sök efter vad du behöver, Vi föreslår detta, men det är du som bestämmer
Du kan också se :
Du kan kommentera här :
Douglas TF-10B Skyknight – Gå Runt från NetMaquettes
Visningar : 1827
Hitta genom att:
f4d skyray walkaround
EF-10B walkaround
F-10 Skyknight