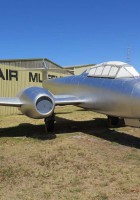 Gloster Meteor T. 7

Landet
STORBRITANNIEN
Typ
Stridsflygplan
Fotografi
Vladimir Yakubov
Hitta
Australian National Aviation Museum
Beskrivning
Album

71

foton promenad-runt av en "Gloster Meteor T. 7"
Fotogalleri från en Gloster Meteor T. 7, The Gloster Meteor was the first British jet fighter and the Allies' only operational jet aircraft during the Second World War. The Meteor's development was heavily reliant on its ground-breaking turbojet engines, pioneered by Sir Frank Whittle and his company, Power Jets Ltd. Development of the aircraft itself began in 1940, although work on the engines had been under way since 1936. The Meteor first flew in 1943 and commenced operations on 27 July 1944 with No. 616 Squadron RAF. Nicknamed the "Meatbox", the Meteor was not a sophisticated aircraft in its aerodynamics, but proved to be a successful combat fighter. Gloster's 1946 civil Meteor F.4 demonstrator G-AIDC was the first civilian-registered jet aircraft in the world. Meteor T. 7: Two-seat trainer variant of the F.4, company prototype first flew 19 March 1948, 640 production aircraft for the Royal Air Force and the Royal Navy (43) and 72 for export (Belgium, Brazil, Denmark, Egypt, France, Israel, Netherlands). Avions Fairey modified 20 Belgian Air Force F.4s to T.7 standard.
Wait, Searching Gloster Meteor T.7 books for you…

Wait, Searching Gloster Meteor T.7 for you…

Infos
Roll
Fighter
Tillverkare
Gloster Aircraft Company
Första flygningen

5 March 1943

Introduktion

27 July 1944

Pensionär

1980s

Producerade

1943–1955

Antal byggda

3,947
Meteor Mk. 4 Walk Around

Fotograf
Andrej Serohh
Lokalisering

Danmarks Tekniske Museum,

Foton
41
Relaterade kit:
Hitta kit på eBay:
Sök på eBay
Sök efter vad du behöver, Vi föreslår detta, men det är du som bestämmer
Du kan också se :
Visningar : 1745