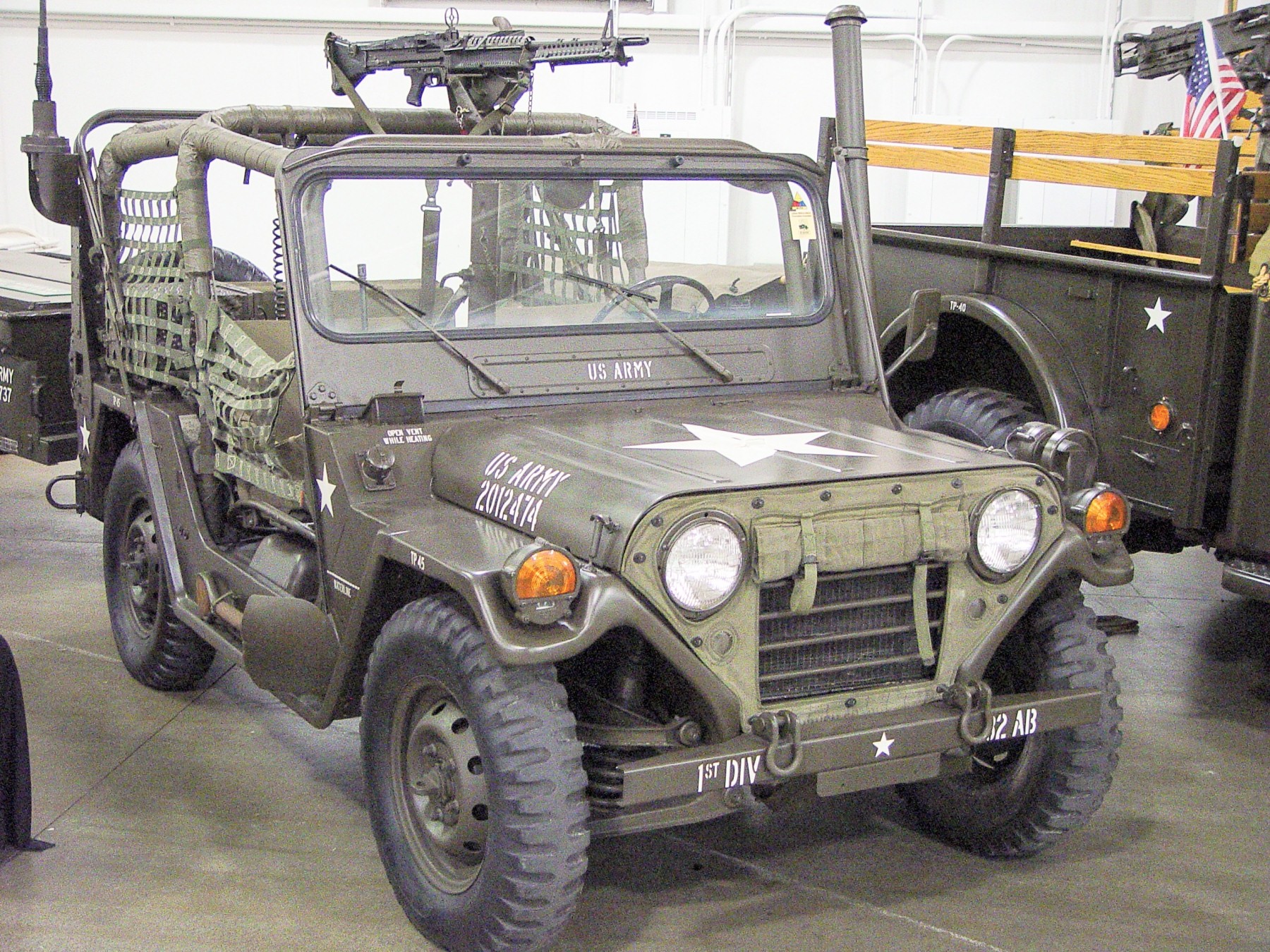 M151 1/4-ton 4×4 utility truck

Zemlja
Sad
Ulogu

1/4 ton truck/personnel transport, four wheel drive

Proizvodjeno

1959–1982

Izgradio
100000+
The Truck, Utility, 1/4-Ton, 4×4, M151 (M151) was the successor to the Korean War M38 and M38A1 jeep Light Utility Vehicles. Commonly referred to as a "jeep" or "quarter-ton", it was produced from 1959 through 1982 and served in the Vietnam War. The M151 had a monocoque design making it roomier than previous jeep designs, and incorporated an independent suspension with coil springs. It has since been replaced by the larger AM General HMMWV in most utility roles in frontline use. With some M151A2 units still in U.S. military service in 1999, the M151 series achieved a longer run of service than that of the WW2 MB/GPW, M38, and M38A1 series combined.
Izvor: M151 na Vikipediji
M151A2 MUTT Walk Around
Fotograf
Vladimir Jakubov
Lokalizacija
U.S. Navy Seabee Museum
Fotografije
86
Wait, Searching M151 for you…

Srodni kompleti:
Ford M151 4WD
Nichimo
1:16
Kompletan komplet
Clic za pretragu
M151A2 M.U.T.T. Walk Around
Fotograf
Vladimir Jakubov
Lokalizacija
Nepoznato
Fotografije
104
Pronađi komplete na eBay-u:
Pretraga na eBay-u
Tražimo ono što vam treba, predlažemo vam ovo, ali vi ste ti ti koji odlučujete
...
M151A2 MUTT Walk Around
Fotograf
Vladimir Jakubov
Lokalizacija

MVCC Camp Delta 2011

Fotografije
86
Wait, Searching Jeep for you…

Ford M151 Mutt Walk Around
Fotograf
Michael Benolkin
Lokalizacija
Nepoznato
Fotografije
27
Više informacija:
The M151 truck was a 4×4 utility vehicle that served in the US military and other allied forces for several decades. It was developed by Ford Motor Company in the 1950s as a replacement for the older M38 and M38A1 jeeps. The M151 had a unique integrated body and frame design that gave it more space and better handling than its predecessors. It also had an independent suspension system with coil springs that improved its off-road performance. The M151 was powered by a 2.3-liter inline four-cylinder engine that produced 71 horsepower and 128 lb-ft of torque. It had a four-speed manual transmission and a single-speed transfer case that allowed it to switch between two-wheel and four-wheel drive modes.
The M151 could carry four passengers and their equipment, and had a range of about 300 miles on a single tank of gas. The M151 was widely used in the Vietnam War, where it proved to be versatile and reliable in various roles, such as reconnaissance, transport, ambulance, fire support, and command and control. The M151 was also exported to many countries around the world, such as Canada, Denmark, Portugal, Israel, and Lebanon. The M151 was gradually replaced by the larger and more modern HMMWV in the 1980s and 1990s, but some units remained in service until 1999.
Views : 6026