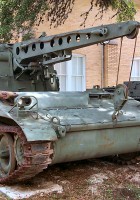 M578 Svetlobe Predelave Vozila

Država
ZDA
Vrsta
Tank Predelave Vozila
Temo

Album

23

fotografije sprehod okoli "M578 Lahka Recovery Vehicle"
Photo gallery of a M578 Light Recovery Vehicle, M578 Light Recovery Vehicle (G309) was an American Cold War-era armored recovery vehicle. The M578 utilized the same chassis as M107 self-propelled gun and M110 self-propelled howitzer. The M578 provided maintenance support to mechanized infantry and artillery units. Its primary mission was to recover damaged light armored vehicles from the battlefield using its crane boom.
Vir: M578 onWikipedia
Wait, Searching M74 Tank Recovery Vehicle photos for you…
Wait, Searching M74 Tank Recovery Vehicle for you…
Storitev zgodovina
Used by : Israel, USA, UK Wars : Vietnam war
Proizvodnja zgodovina
Manufacturer : -FMC Corp. -Bowen-McLaughlin-York Produced : 1962
Specifikacije
Weight : 24,000kg Length : 5.583m Width : 3.15m Height : 2.629m Crew : 3 men: Crane operator in cab right front Rigger in cab left front Driver in hull left front
Povezani sklopi:
Našli kompleti na eBay:
Iskanje na eBay
Iskati tisto, kar potrebujete, priporočamo, da to, vendar to je vas, ki se odločijo,
Vidite lahko tudi :
Ogledov : 979
Iskanje z:
1/35 m578 light recovery vehicle
M578 Light Recovery Vehicle Model
m578
tanque de recuperacion m578
tanque m 578
vietnam m16 walkaround