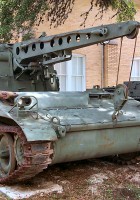 M578 Lys Recovery Kjøretøy

Land
USA
Type
Tanken Recovery Kjøretøy
Emnet

Album av

23

bilder walk-rundt av en "M578 Lys Recovery Bilen"
Photo gallery of a M578 Light Recovery Vehicle, M578 Light Recovery Vehicle (G309) was an American Cold War-era armored recovery vehicle. The M578 utilized the same chassis as M107 self-propelled gun and M110 self-propelled howitzer. The M578 provided maintenance support to mechanized infantry and artillery units. Its primary mission was to recover damaged light armored vehicles from the battlefield using its crane boom.
Kilde: M578 onWikipedia
Wait, Searching M74 Tank Recovery Vehicle photos for you…

Wait, Searching M74 Tank Recovery Vehicle for you…

Service historikk
Used by : Israel, USA, UK Wars : Vietnam war
Produksjon historie
Manufacturer : -FMC Corp. -Bowen-McLaughlin-York Produced : 1962
Spesifikasjoner
Weight : 24,000kg Length : 5.583m Width : 3.15m Height : 2.629m Crew : 3 men: Crane operator in cab right front Rigger in cab left front Driver in hull left front
M578 Armored Recovery Vehicle Walk Around
Fotograf
Bill Maloney
Lokalisering

Allegheny Arms & Armor Museum

Bilder
16
Relaterte kits:
Finn sett på eBay:
Søk på eBay
Søk etter hva du trenger, Vi foreslår dette, men det er du som bestemmer
Du kan se også :
Du kan kommentere her :
Views : 1299