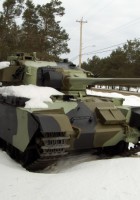 Centurion Mk5

Country
UK
Category
Armoured vehicles
Type
Char
Description

Album

71

photos walk-around du char Centurion Mk5
Gallery photo on a tank Centurion Mk5, The Centurion is a tank of the british army after the war. the Centurion is regarded by connoisseurs as one of the first british tanks in quality. Its development began during the Second world War, as it is not arrived early enough on the ground it was not engaged in the fighting. By contrast, he took part in the war of Korea, where observers reported that it had outperformed both the american tanks than the soviets.
Source: Centurion tank Wikipedia
Wait, Searching Centurion Mk5 photos for you...
Wait, Searching Centurion Mk5 for you...
Specifications
Crew
4 men (commander, gunner, loader, driver)
Length
7,82 m
Width
4.30 m
Height
3,01 m
You can see also :
Find items about "Tank Centurion" on AliExpress (c):
Views : 1462
Find by:
centurion mk5
百夫长MK 5-9
centurion mk 5-9 world of tanks
panzercenturionmk5
centurion mk5 wot
idf centurion
centurion mk 5-9 википедия
world of tanks centurion mk 5-9
Horstmann suspension images
centurion turret walkaround
centurion tank autonomy
centurion tank 1 35
centurion mk5-9 фото мир танков
centurion mk 5-9 wot
centurion Mk5 tank
centurin mk5-9 worlds of tanks
Centurion Mk 5/1 tank 4 RTR Berlin Brigade 1962
centurion mk 5-9 worlds of tanks
centurion mk 5-9 фото инфа
centurion mk 5-9 картинки