North American T-28 Trojan

Land
Verenigde staten
Type

Trainer aircraft / Light attack

Geproduceerd

1950–1957

Aantal gebouwd

1948
De North American Aviation T-28 Trojan is a piston-engined military trainer aircraft used by the United States Air Force and United States Navy beginning in the 1950s. Besides its use as a trainer, the T-28 was successfully employed as a counter-insurgency aircraft, primarily during the Vietnam War. It has continued in civilian use as an aerobatics and Warbird performer.
Wait, Searching North American T-28 Trojan photos for you…

North American T-28B Trojan Walk Around

Fotograaf
Vladimir Yakubov
Locatie

USS Hornet, Alameda

Foto ' s
122
Wait, Searching North American T-28 Trojan for you…

Verwante kits: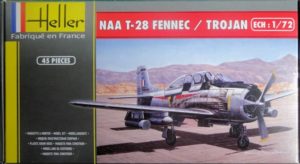 Clic voor Zoeken
Kitty Hawk
1:32
Volledige kit
Clic voor Zoeken
Pakketten vinden op eBay:
Zoeken op eBay
Zoeken naar wat je nodig hebt, raden We dit maar het is u die besluiten
Je kunt ook zien :
North American T-28B Trojan Walk Around
Fotograaf
Cees Hendriks
Locatie
Onbekend
Foto ' s
96
Views : 1845