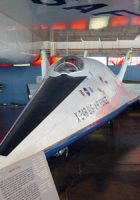 Martin Marietta X-24

Land
Verenigde staten
Rol

Concept demonstrator aircraft

Eerste vlucht

24 October 2000

Gebouwd
2
De Martin Marietta X-24 was an American experimental aircraft developed from a joint United States Air Force-NASA program named PILOT (1963–1975). It was designed and built to test lifting body concepts, experimenting with the concept of unpowered reentry and landing, later used by the Space Shuttle. Originally built as the X-24A, the aircraft was later rebuilt as the X-24B. The X-24 was drop launched from a modified B-52 Stratofortress at high altitudes before igniting its rocket engine; after expending its rocket fuel, the pilot would glide the X-24 to an unpowered landing.
Wait, Searching Martin Marietta X-24 for you…

Martin X-24B Lifting Body Walk Around

Fotografen

John Heck, Randy Ray

Coördinaten
Nationaal Museum van de AMERIKAANSE luchtmacht
Foto ' s
36
Wait, Searching Martin Marietta X-24 for you…

Verwante kits:
Martin X-24A Lifting Body Walk Around

Fotografen

John Heck, Randy Ray

Coördinaten
Nationaal Museum van de AMERIKAANSE luchtmacht
Foto ' s
Vierendertig
Pakketten vinden op eBay:
Zoeken op eBay
Zoeken naar wat je nodig hebt, raden We dit maar het is u die besluiten
Je kunt ook zien :
U kunt hier commentaar :
Bekeken : 15