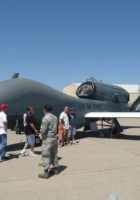 Northrop Grumman RQ-4 Global Hawk

País
Estados UNIDOS
Papel
De vigilancia de UAV
Primer vuelo

28 February 1998

Construido
48
El Northrop Grumman RQ-4 Global Hawk is an unmanned (UAV) surveillance aircraft. It was initially designed by Ryan Aeronautical (now part of Northrop Grumman), and known as Tier II+ during development. The Global Hawk performs a similar role as the Lockheed U-2. The RQ-4 provides a broad overview and systematic surveillance using high-resolution synthetic aperture radar (SAR) and long-range electro-optical/infrared (EO/IR) sensors with long loiter times over target areas. It can survey as much as 40,000 square miles (100,000 km2) of terrain a day.
Wait, Searching Northrop Grumman RQ-4 Global Hawk for you…
Northrop RQ-4 Global Hawk Caminar Alrededor de
Fotógrafo
Vladimir Yakubov
Localización
Beale AFB Air Show
Fotos
94
Wait, Searching Northrop Grumman RQ-4 Global Hawk for you…
Relacionados con los kits: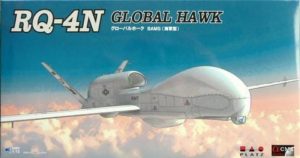 Northrop-Grumman RQ-4N (NAVY) Global Hawk BAM
Platz
AC-5
1:72
Kit completo
Haz Clic para Buscar
Encontrar kits en eBay:
Búsqueda en eBay
La búsqueda de lo que necesita, sugerimos que este, pero es usted quien decide
Se puede ver también :
Puedes comentar aquí :
Northrop Grumman RQ-4 Global Hawk – Caminar de NetMaquettes
Vistas : 486