PZL P. 38 Wolf

Editor

Verlag Militaria

Serie
Military Aviation
Zeit
ww2
Ref
003
Une documentation signée Verlag Militaria la revue «PZL P. 38 Wilk – Verlag Militaria 003» .
Die PZL.38 Wolf ("wolf") (PZL-38) was a Polish fighter-bomber developed and manufactured by PZL state factory in 1937. It was a twin-engine low-wing cantilever monoplane of metal construction, metal covered. The fuselage was semi-monocoque, elliptic in cross-section. The crew of two – pilot and rear gunner/bombardier/observer sat under separate canopies, far from each other, fitted with dual controls. A canopy of pilot's cockpit opened aside. Three part wing, outer parts were built around light closed profiles.
Flügel ausgestattet mit Lattenrost und split klappen. Twin vertikale Stabilisatoren. Motoren in underwing Gondeln. Einziehfahrwerk, mit Haupt-Räder einfahren in Triebwerksgondeln, und eine hintere skid. Drei-Blatt-variable (S. 38/I) oder zwei-blade fixed Propeller (PZL.38/II). Die Kraftstofftanks in den Flügeln – 500 ltr. Bewaffnung: fest 20 mm FK-Pistole (geplant) und zwei 7,92 mm PWU wz.36 MGS in der Rumpfnase, twin 7,92 mm PWU wz.37 mg einer Heckschütze, versteckt in den Rumpf. Es tragen konnte eine 300-kg-Bombe.
Quelle: PZL P. 38 Wilk4 sur Wikipedia>
Wait, Searching Wydawnictwo 003 for you...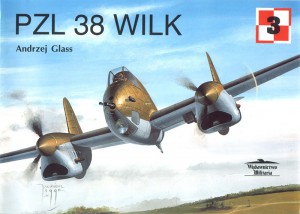 Warten Sie, Suche PZL P. 38 für Sie...

Verwandte kits:
Clic für die Suche
Finden kits auf eBay:
Suche auf eBay
Suche für das, was Sie benötigen, Wir empfehlen dies, aber es ist Ihr, die entscheiden
You can see also :
PZL P.38 Wilk – Wydawnictwo Militaria 003

aus NetMaquettes
Aufrufe : 543
Find by:
broplan 1/48
pzl p 38 wilk
pzl bimotor
PZL 46 Sum
pzl 38 wilk
Miniplast vacuform
militaria da 2ww ref apiloto militar
maquettes broplan
livro ilustrado das wilk
images of pzl
forum ; Broplan vacuform PZL P-46 SUM
Do215 ICM
comment 1/48 AEROPLAST PZL SW 4 - UTILITY HELICOPTER (POLISH & KOREAN MARKINGS)
broplan vacuform
broplan maquettes
Broplan kit reviews
Виллис МБ Форд ГПВ 1945г КУПЛЮ