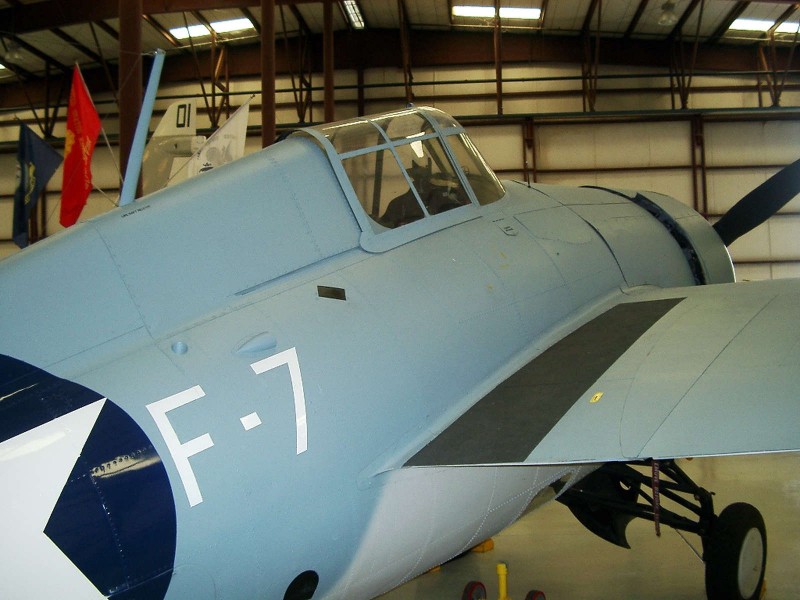 FM-1 Wildcat

Land
USA
Zuerst Fliegen
2. September 1947
Gebaut
7885
Die Grumman F4F Wildcat was an American carrier-based fighter aircraft that began service with both the United States Navy and the British Royal Navy (as the Martlet) in 1940. First used in combat by the British in Europe, the Wildcat was the only effective fighter available to the United States Navy and Marine Corps in the Pacific Theater during the early part of World War II in 1941 and 1942; the disappointing Brewster Buffalo was withdrawn in favor of the Wildcat and replaced as units became available. With a top speed of 318 mph (512 km/h), the Wildcat was outperformed by the faster and more nimble 331 mph (533 km/h) Mitsubishi A6M Zero, but its ruggedness, coupled with tactics such as the Thach Weave, resulted in an air combat kill-to-loss ratio of 5.9:1 in 1942 and 6.9:1 for the entire war. GM produced the FM-1, identical to the F4F-4, but reduced the number of guns to four, and added wing racks for two 250 lb (110 kg) bombs or six rockets. Production later switched to the improved FM-2 (based on Grumman's XF4F-8 prototype) optimized for small-carrier operations, with a more powerful engine (the 1,350 hp (1,010 kW) Wright R-1820-56), and a taller tail to cope with the torque.
Quelle: FM-1 Wildcat auf Wiki
FM-1 Wildcat
Fotograf
Unknow
Lokalisierung
Unknow
Fotos
35
Warten Sie, Suchen, FM-1 Wildcat für Sie...

FM-1 Wildcat
Fotograf
Bill Spidle
Lokalisierung
Unknow
Fotos
87
Verwandte kits:
Finden kits auf eBay:
Suche auf eBay
Suche für das, was Sie benötigen, Wir empfehlen dies, aber es ist Ihr, die entscheiden
Sie können siehe auch :
Views : 2365