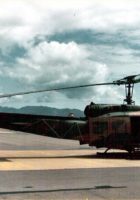 Bell UH-1 Iroquois

Land
USA
Rolle
Utility helicopter
Erstflug
20. Oktober 1956
Gebaut
16000+
Die Bell UH-1 Iroquois (nicknamed "Huey") is a utility military helicopter powered by a single turboshaft engine, with two-blade main and tail rotors. The first member of the prolific Huey family, it was developed by Bell Helicopter to meet a United States Army's 1952 requirement for a medical evacuation and utility helicopter, and first flew in 1956. The UH-1 was the first turbine-powered helicopter to enter production in 1960 for the United States military, and more than 16,000 have been built since. The Iroquois was originally designated HU-1, hence the Huey nickname, which has remained in common use, despite the official redesignation to UH-1 in 1962. The UH-1 first saw service in combat operations during the Vietnam War, with around 7,000 helicopters deployed. The Bell 204 and 205 are Iroquois versions developed for the civil market.
Quelle: Bell UH-1 Iroquois auf Wikipedia
Warten Sie, Suche Bell UH-1 Iroquois für Sie...

Bell UH-1D Huey Walk Around
Fotograf
Unknow
Lokalisierung
Unknow
Fotos
Achtzig
Warten Sie, Suche Bell UH-1 Iroquois für Sie...

Bell UH-1 Iroquois
durch Net-Modelle
Verwandte kits: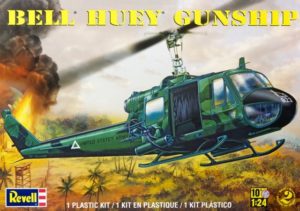 Bell Huey Gunship
Revell
85-5633
1:24
Full kit
Clic für die Suche
Finden kits auf eBay:
Suche auf eBay
Suche für das, was Sie benötigen, Wir empfehlen dies, aber es ist Ihr, die entscheiden
You can see also :
Bell UH-1D Huey Walk Around
Fotograf
Vladimir Yakubov
Lokalisierung
Estrella Warbird Museum, Paso Robles
Fotos
Eins hundert
Sie können den Kommentar hier :
Bell UH-1 Iroquois – Spaziergang Rund um aus NetMaquettes
Aufrufe : 1247
Find by: