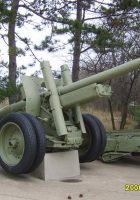 122mm Gun A-19

Land
Sowjetunion
Geben
Sowjetische Feld-gun
Fotograf
Unknow
Beschreibung

Album

15

Fotos walk-around von einer «122mm Kanone A-19»
Foto-Galerie 122mm Gun A-19, 122 mm corps gun M1931 (A-19) (Russian: 122-мм корпусная пушка обр. 1931 г. (А-19)) was a Soviet field gun, developed in the late 1920s and early 1930s. In 1939 the gun was replaced in production by an improved variant, M1931/37. The piece saw action in World War II with the Red Army. Captured guns were employed by Wehrmacht and the Finnish Army.
Quelle: 122mm A-19 on Wiki
Wait, Searching 122mm Gun A-19 photos for you…

Wait, Searching 122mm Gun A-19 for you…

Verwandte kits:
Finden kits auf eBay:
Suche auf eBay
Suche für das, was Sie benötigen, Wir empfehlen dies, aber es ist Ihr, die entscheiden
Sie können siehe auch :
Views : 835