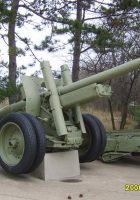 122mm Gun A-19

Država
Sovjetska Zveza
Vrsta
Sovjetski področju pištolo
Fotograf
Neznani
Opis

Album

15

fotografije sprehod okoli za "122mm Pištolo-19"
Galerija a 122mm Gun A-19, 122 mm corps gun M1931 (A-19) (Russian: 122-мм корпусная пушка обр. 1931 г. (А-19)) was a Soviet field gun, developed in the late 1920s and early 1930s. In 1939 the gun was replaced in production by an improved variant, M1931/37. The piece saw action in World War II with the Red Army. Captured guns were employed by Wehrmacht and the Finnish Army.
Vir: 122mm A-19 on Wiki
Wait, Searching 122mm Gun A-19 photos for you…

Wait, Searching 122mm Gun A-19 for you…

Povezani sklopi:
Našli kompleti na eBay:
Iskanje na eBay
Iskati tisto, kar potrebujete, priporočamo, da to, vendar to je vas, ki se odločijo,
Vidite lahko tudi :
Views : 835