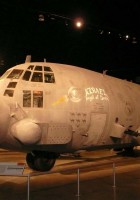 Lockheed AC-130A Spectre

Land
Usa
Type
Bakke-angrep fly
Fotografi
Vladimir Yakubov
Beskrivelse
Album av

23

photos walk-around of a «Lockheed AC-130A Spectre»
Bildegalleri av en Lockheed AC-130A Spectre,
The Lockheed AC-130 gunship is a heavily armed, long-endurance ground-attack variant of the C-130 Hercules transport fixed-wing aircraft. It carries a wide array of anti-ground oriented weapons that are integrated with sophisticated sensors, navigation, and fire-control systems. Unlike other military fixed-wing aircraft, the AC-130 relies on visual targeting. Because its large profile and low operating altitudes (around 7,000 ft) make it an easy target, it usually flies close air support missions at night.
Wait, Searching Lockheed AC-130A Spectre photos for you…
Wait, Searching Lockheed AC-130A Spectre for you…
Info
Rolle

Fixed-wing Ground-attack and close air support gunship

Produsent

Lockheed and Boeing

Første flight

1966

Innledning

AC-130A: 1968

Pensjonert

1995-2015

Primær bruker
United States Army Air Forces
Antall bygget
47

Developed from

P-51 Mustang
Find items about "Lockheed" on AliExpress (c):
Visninger : 388
Søk etter:
ac-130 gunship walkaround
lockheed c-130k walkaround