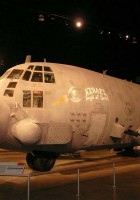 Lockheed AC-130A Spectre

Država
Združene Države Amerike
Vrsta
Jurišno letalo
Prvi polet
1966
Zgrajena
47
Galerija a Lockheed AC-130A Spectre, The Lockheed AC-130 gunship is a heavily armed, long-endurance ground-attack variant of the C-130 Hercules transport fixed-wing aircraft. It carries a wide array of anti-ground oriented weapons that are integrated with sophisticated sensors, navigation, and fire-control systems. Unlike other military fixed-wing aircraft, the AC-130 relies on visual targeting. Because its large profile and low operating altitudes (around 7,000 ft) make it an easy target, it usually flies close air support missions at night.
Wait, Searching Lockheed AC-130A Spectre photos for you…

Lockheed AC-130A Spectre
Fotograf
Vladimir Yakubov
Lokalizacija
Neznani
Fotografije
23
Wait, Searching Lockheed AC-130A Spectre for you…

Infos
Vlogo
Fiksno krilo jurišno in zaprite zračno podporo gunship
Proizvajalec
Lockheed in Boeing
Prvi polet
1966
Uvod

AC-130A: 1968

Upokojenci

1995-2015

Primarni uporabnik
United States Army Air Forces
Število zgrajena
47
Razvili iz
P-51 Mustang
Povezani sklopi:
Lockheed Martin AC-130H
Italeri
1:72
Celoten komplet
Clic za Iskanje
Našli kompleti na eBay:
Iskanje na eBay
Iskati tisto, kar potrebujete, priporočamo, da to, vendar to je vas, ki se odločijo,
Vidite lahko tudi :
Lockheed AC-130A Spectre Walk Around
Fotograf
Vladimir Yakubov
Lokalizacija
Narodni Muzej USAF
Fotografije
23
Lockheed AC-130A Gunship USAF Walk Around
Fotografi
Meindert de Vreeze, Cees Hendriks
Lokalizacija
Neznani
Fotografije
77
Lahko komentar tukaj :
Lockheed AC-130A Spectre – WalkAround iz NetMaquettes
Views : 1073
Iskanje z:
ac 130 walk around
ac-130 gunship walkaround
lockheed c-130k walkaround