Lockheed F-94 Starfire

Land
USA
Rolle
I All slags vær interceptor
Første flight

16 April 1949

Bygget

855
Den Lockheed F-94 Starfire was a first-generation jet aircraft of the United States Air Force. It was developed from the twin-seat Lockheed T-33 Shooting Star in the late 1940s as an all-weather, day/night interceptor. The aircraft reached operational service in May 1950 with Air Defense Command, replacing the piston-engined North American F-82 Twin Mustang in the all-weather interceptor role. The F-94 was the first operational USAF fighter equipped with an afterburner and was the first jet-powered all-weather fighter to enter combat during the Korean War in January 1953. It had a relatively brief operational life, being replaced in the mid-1950s by the Northrop F-89 Scorpion and North American F-86D Sabre. The last aircraft left active-duty service in 1958 and Air National Guard service in 1959.
Lockheed F-94A Starfire Walk Around
Fotograf
Vladimir Yakubov
Lokalisering
National Museum of USAF
Bilder
56
Wait, Searching Lockheed F-94 Starfire for you…

Lockheed F-94 Starfire
av Net-Maquettes
Relaterte kits: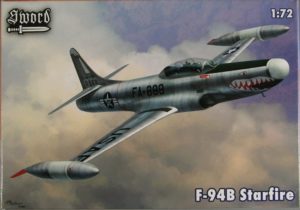 F-94B Starfire
Sverd
1:72
Full kit
Clic for Søk
Lockheed F-94C Starfire Walk Around
Fotograf
John Pokker
Lokalisering
Ukjent
Bilder
Tjueni
Finn sett på eBay:
Søk på eBay
Søk etter hva du trenger, Vi foreslår dette, men det er du som bestemmer
Du kan se også :
Views : 1680