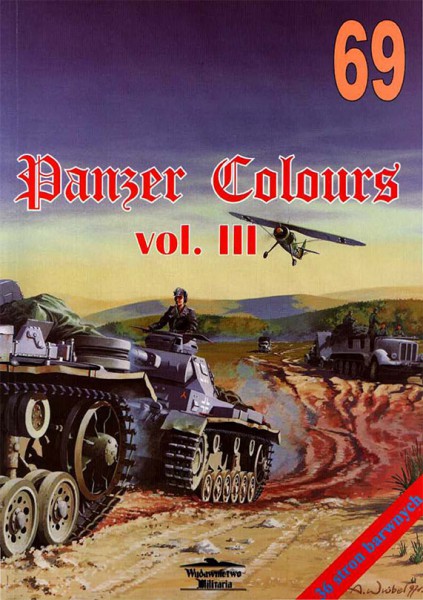 Wydawnictwo Militaria

Series
Wydawnictwo Militaria
Réf
069
Sujet
Panzers
Period
ww2
Signed documentation Wydawnictwo Militaria the book "Panzers Colours III - Wydawnictwo Militaria 069" .
Panzer is a German word meaning "armored". If the word can be applied today to all German armored vehicles, from the origins to the present day, the usage makes that it refers essentially to the German turreted tanks of the Second World War (panzerkampfwagen, armored combat vehicle, for short PzKfw), lesquels eurent une conception et un emploi tactique particuliers. Le terme générique est moins utilisé pour les MBT (main battle tank) allemands de l'après-guerre (Leopard 1 et 2), similaires aux autres systèmes d'armes occidentaux. A noter que si l'historiographie française utilise le pluriel "panzers", l'usage actuel admet le pluriel d'origine panzer en italique. De plus, certains ouvrages d'histoire militaire utilisent ce mot comme abréviation de grandes unités blindées ("2ème panzer" signifiant 2ème division blindée ou 2.Panzerdivision). Les panzer, surtout ceux de la deuxième moitié de la guerre, étaient très redoutés, moins nombreux mais souvent plus dangereux que ceux de leurs adversaires. Les chars lourds Tigre et Tigre II étaient ainsi les véhicules les plus lourdement blindés de leur époque. Le panzer IV fut le blindé allemand le plus utilisé durant la Seconde Guerre mondiale. Il a opéré sur tous les fronts : Pologne, France, Balkans, Grèce, front de l'Est, Afrique du Nord, Italie, etc.
Source: Wikipedia
Wait, Searching Wydawnictwo Militaria 069 for you…

Find kits on eBay:
Search on eBay
Search for what you need, We suggest this but it is you who decide
[ae_affiliate_byphil keyword="Panzers"] ...
Related kits:
Views : 420