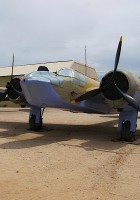 Bristol Blenheim Mk IV

Country
UK
Type
Light bomber
Photo gallery on a Bristol Blenheim Mk IV, The Bristol Blenheim, is a light bomber fast triplace british in the Second world War. From a civil project, this twin-engine aircraft was the first monoplane metal-wing cantilever to enter service with the RAF. Faster than the majority of hunters in service in 1936, he proved disappointing to the test of the first fighting in 1939, but occupied an important place in the device with the british military at the beginning of the Second world War.
Source: Bristol Blenheim on Wikipedia
Wait, Searching Bristol Blenheim Mk IV photos for you...

Bristol Blenheim Mk IV
Photographer
Unknow
Location
Unknow
Photos
129
Wait, Searching Bristol Blenheim Mk IV for you…

Blenheim Mk IV Walk Around
Photographer
Andrey Sinchuk
Location
Royal Museum of the Army and of Military History
Photos
33
Related kits:
British Bomber Bristol Blenheim Mk.IV
Zvezda
6230
1:200
Full kit
Clic for Search
Find kits on eBay:
Search on eBay
Search for what you need, We suggest this but it is you who decide
You can see also :
Bristol Blenheim IV Walk Around
Photographers
Cees Hendriks, Meindert de Vreeze
Location
Unknow
Photos
48
Bristol Blenheim Mk IV – Walk Around from Net maquettes
Views : 2604
Find by:
bristol blenheim walkaround
bristol blenheim walk around
bristol blenheim
blenheim walkaround
Bristol Blenheim Mk 1 walkaround
ブリストルブレニム
Bristol Blenheim Walk around
blenheim mk iv bristol walk around
bristol blenheim walkaround pictures
classic airframes 1/48 bristol blenheim 通販
폭격기 브리스톨블렌하임
Bristol Blenheim Mk V photos
Bristol Blenheim photos
blenheim 1 walkaround
bristol blenheim mk 1 f color
bristol blenheim iv profiles
BRISTOL BLENHEIM IN ACTION (for Classic Airframes Airfix 1/48)
1/48 Blenheim Mk IV
BRISTOL BEAUFIGHTER Mk-1 Walkaround Photo
Blenheim IV