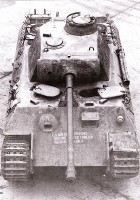 Album de 97 photos de chars Panzer V

Topic
Photos des chars Panzer V
Period
Second world war
Description

Album

97

photos walk-around of the Panzer V
Le SdKfz 171 Panzer V Panther was a battle tank used by the German army during the Second world War, from July 1943 during the battle of Kursk, to may 8, 1945. Designed to counter the tank T-34 soviet, and replace the Panzerkampfwagen III and Panzerkampfwagen IV, it served ultimately to their sides, up to the end of the war, in three major versions : "D ", " A ", " G ". One last version " F " or "Panther II" was being planned, prior to the ultimate replacement of the "Panther" by the tank " E-50 ".
Source: Panzer V sur Wikipedia
Wait, Searching Panzer V photos for you…
Wait, Searching Panzer V for you…
You can see also :
Find items about "Panzer V" on AliExpress (c):
Views : 2613
Find by:
panzer v panther
panzer mk 5
pzkpfw 5 tiger oblezenie leningradu 1942
imagenes panzer 5
fotos panzer v
zdjęcie zamaskowanych czołgów PzKpfw V Panther na wagonach
bussing nag l4500s with mg 151
www PzKpfwg Panther/Fotos de
galeria de fotos de panzer en color
panzer v icm
panzer V
Panzer photo album
제2차세계대전 항공사진
panzer 5 fotos tanques
panzer 4 szines fotók
panther inside detail
panther 5
mk v panther
immagini modellino panther coelian
imagenes a color de tanques panzers