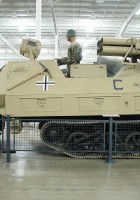 Sd.Kfz.4/1 Maultier

Country
Germany
Type
Half-track
Description

Album

35

photos walk-around of the "Sd.Kfz.4/1 Maultier"
Gallery photo on an Sd card.Kfz.4/1 Maultier, The SdKfz 4 Gleissketten-Lastkraftwagen or Maultier was the name of a type of half-tracks developed during the Second world War by Germany which, between 1933 and 1945, has been the leader in the construction of these vehicles. The SdKfz 4 was developed after the invasion of Russia in 1941 because it was proven that classic commercial vehicles (essentially the Opel Blitz 3t Type 3,6-36S, Ford V8 3t Type G 398 TS/V 3000 S, the Magirus Type S 3000 and the Mercedes-Benz 4.5 t Type L 4500 R) which usually ensured the provisioning of the German troops were faltering in the ice and mud present in Russia. A total of 22 500 half-tracks SdKfz 4 was produced until 1944. Subsequently, Opel trucks were filled with rocket launchers, Panzerwerfer 150 mm and called SdKfz 4/1, with approximately 300 copies were produced. However, these models do not exceed a speed of 40 km/h due to their increased weight. Each halftrack was equipped with a radio FuG Spr G.
Source: Sd.Kfz.4 Maultier on Wikipedia
Wait, Searching SdKfz 4 Maultier for you...

Wait, Searching SdKfz 4 Maultier photos for you...

Related kits:
Find kits on eBay:
Search on eBay
Search for what you need, We suggest this but it is you who decide
You can see also :
You can comment here :
Sd.Kfz.4/1 Maultier – WalkAround from r/NetMaquettes
Views : 3233