Jagdpanzer IV - Sdkfz.162

Country
Germany
Role
Tank destroyer
Produced
December 1943 – April 1945
Built
2000+
The Jagdpanzer IV, Sd.Kfz. 162, was a German tank destroyer based on the Panzer IV chassis and built in three main variants. As one of the casemate-style turretless Jagdpanzer (tank destroyer, literally "hunting tank") designs, it was developed against the wishes of Heinz Guderian, the inspector general of the Panzertruppen, as a replacement for the Sturmgeschütz III (StuG III). Guderian objected against the needless, in his eyes, diversion of resources from Panzer IV tank production, as the Sturmgeschütz III was still more than adequate for its role. Officially, only the L/48-armed vehicle was named Jagdpanzer IV. The L/70-armed vehicle was named Panzer IV/70. In this article, both versions are referred to in general as Jagdpanzer IV, except in the variants and surviving vehicles section.
Source: Jagdpanzer IV on Wikipedia
Jagdpanzer IV
Photographer
Unknow
Localisation
Unknow
Photos
56
Wait, Searching Jagdpanzer IV for you…

Related kits: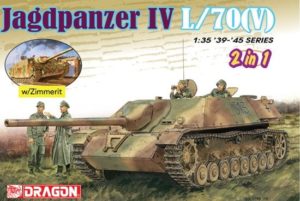 Jagdpanzer IV L/70(V) (2 in 1)
Dragon
6498
1:35
Full Kit
Clic for Search
Jagdpanzer IV
Photographer
Unknow
Localisation
Saumur
Photos
42
Find kits on eBay:
Search on eBay
Search for what you need, We suggest this but it is you who decide
Jagdpanzer IV L-48 walkaround
Photographer
Unknow
Localisation
Saumur
Photos
26
...

Wait, Searching Jagdpanzer IV for you…

Views : 6444