Jagdpanzer IV – Sdkfz.162

Zemlja
Nemačka
Ulogu
Razarač tenka
Proizvodi
Decembar 1943 – April 1945
Izgradio
2000+
The Jagdpanzer IV, Sd.Kfz. 162, was a German tank destroyer based on the Panzer IV chassis and built in three main variants. As one of the casemate-style turretless Jagdpanzer (tank destroyer, literally "hunting tank") designs, it was developed against the wishes of Heinz Guderian, the inspector general of the Panzertruppen, as a replacement for the Sturmgeschütz III (StuG III). Guderian objected against the needless, in his eyes, diversion of resources from Panzer IV tank production, as the Sturmgeschütz III was still more than adequate for its role. Officially, only the L/48-armed vehicle was named Jagdpanzer IV. The L/70-armed vehicle was named Panzer IV/70. In this article, both versions are referred to in general as Jagdpanzer IV, except in the variants and surviving vehicles section.
Izvor: Jagdpanzer IV na Vikipediji
Jagdpanzer IV
Fotograf
Unknow
Lokalizacija
Nepoznato
Fotografije
56
Wait, Searching Jagdpanzer IV for you...

Srodni kompleti: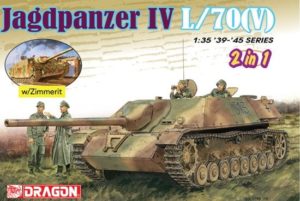 Jagdpanzer IV L/70(V) (2 u 1)
Zmaja
6498
1:35
Kompletan komplet
Clic za pretragu
Jagdpanzer IV
Fotograf
Unknow
Lokalizacija
Saumur
Fotografije
42
Pronađi komplete na eBay-u:
Pretraga na eBay-u
Tražimo ono što vam treba, predlažemo vam ovo, ali vi ste ti ti koji odlučujete
Jagdpanzer IV L-48 walkaround
Fotograf
Unknow
Lokalizacija
Saumur
Fotografije
26
Možete videti i :
Views : 6108