Polikarpov I-153

Country
Soviet Union
Role
Fighter
First flight
1937
Built
3400+
The Polikarpov I-153 Chaika (Russian Чайка, "Seagull") was a late 1930s Soviet biplane fighter. Developed as an advanced version of the I-15 with a retractable undercarriage, the I-153 fought in the Soviet-Japanese combats in Mongolia and was one of the Soviets' major fighter types in the early years of the Second World War. Three I-153s are still flying.
Source:

Polikarpov I-153 on Wikipedia
Polikarpov I-153 Chaika Walk Around
Photographer
Robert N. Abbott Jr.
Localisation
Unknow
Photos
13
Wait, Searching Polikarpov I-153 for you…

Related kits:
Find kits on eBay:
Search on eBay
Search for what you need, We suggest this but it is you who decide
...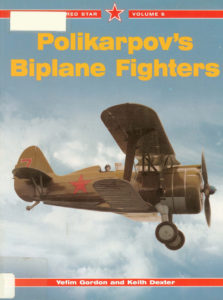 More info:
The Polikarpov I-153 was a Soviet sesquiplane fighter that was developed in the late 1930s from the earlier I-15 biplane. It had a retractable landing gear, a more powerful engine and four fast-firing machine guns. It was one of the main fighter types used by the Soviet Air Force in the early years of World War II, and also saw action in the Soviet-Japanese border conflicts in Mongolia. The I-153 had a distinctive gull-shaped upper wing and a metal and wood mixed construction. It was designed by Nikolai Polikarpov and his team, which included Artem Mikoyan and Mikhail Gurevich, who later founded the MiG design bureau. The I-153 was nicknamed Chaika (Seagull) by its pilots for its agility and maneuverability.
Views : 2495