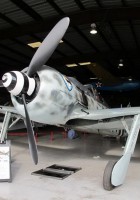 Focke-Wulf Fw-190A-9

Country
Germany
Category
Military aircraft
Type
Fighter / bomber
Photo gallery on a Focke-Wulf Fw-190A-9, the Focke-Wulf Fw 190 was a fighter-bomber single-seater and single-engine German of the Second world War. Product to more than 20 000 units it has been declined in several derived models which have taken the place of the Junkers Ju87 (Stuka) as air support to ground troops and the Messerschmitt Bf110 as a heavy fighter. It is considered the first true fighter-bomber of the Luftwaffe. Version Fw-190 A-9 : This is the last variant of the Fw-190 Was to have been produced in series. It gets a new engine and a new cockpit expanded, borrowed from the Fw-190 F-8. His production will continue side by side with the Fw-190 A-8, in function of the deliveries of the new engine.
Source: Focke-Wulf on Wikipedia
Focke-Wulf Fw-190A-9
Photographer
Unknow
Location
Unknow
Photos
88
Wait, Searching Focke-Wulf for you...

Focke-Wulf Fw 190A-6/R-6 Walk Around
Photographer
Max Otten
Location
Unknow
Photos
35
Related kits: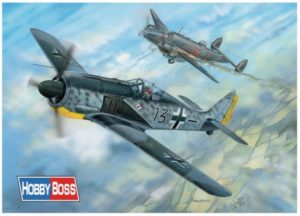 Focke Wulf FW 190A-5
Hobby Boss
81802
1:18
Full kit
Clic for Search
Find kits on eBay:
Search on eBay
Search for what you need, We suggest this but it is you who decide
You can see also :
Wait, Searching Focke-Wulf for you...

You can comment here :
Focke-Wulf Fw-190A-9 – Walk Around from u/PhilTheNet
Views : 7380
Find by:
fw190A-9
foto s focke wulf
fw-190a-9
fw 190 d-9 walk around
focke wulf 190
focke wulf 190 d9 walkaround
FW-190A WALK AROUND
walkaround fw190
fw190 walkaround
fw 190 a9 история
eduard fw 190a-9
focke wulf walkround
fw 190 f8 schwarze 2
Fw 190A-9
fw 190a walk around
FW 190 A-9
Focke-Wulf A 17 Mowe
focke wulf 190a9 1/48 eduard
FW 190 flaps walk around
FW 190 A