North American B-25 Mitchell

Country
USA
Role
Medium bomber
First fly
19 August 1940
Built
9816
The North American B-25 Mitchell is an American twin-engine, medium bomber manufactured by North American Aviation (NAA). The design was named in honor of Major General William "Billy" Mitchell, a pioneer of U.S. military aviation. Used by many Allied air forces, the B-25 served in every theater of World War II and after the war ended many remained in service, operating across four decades. Produced in numerous variants, nearly 10,000 Mitchells rolled from NAA factories.[1] These included a few limited models, such as the United States Marine Corps' PBJ-1 patrol bomber and the United States Army Air Forces' F-10 reconnaissance aircraft and AT-24 trainers.
B-25J-20NC "Strafer" Walk Around
Photographer
Cees Hendriks
Localisation
Unknow
Photos
81
Wait, Searching B-25 Mitchell photos for you…

B-25 Mitchell
Photographer
Unknow
Localisation
Unknow
Photos
30
Caractéristiques techniques : Équipage :8 Motorisation : Moteur Wright R-2600-92 double Cyclone Nombre : 2 Type 14 cylindres en double-étoile refroidi par air Puissance unitaire : 1 700 ch (1 250 kW) Envergure : 20,6 m Longueur : 16,54 m Hauteur : 4,8 m Surface alaire : 56,67 m2 Masse à vide : 9 060 kg Carburant : Externe : 3 875 L kg Avec armement : 16 350 kg Maximale : 19 000 kg Vitesse maximale à 3 960 m : 438 km/h (Mach 0,36) Plafond : 7 250 m Vitesse ascensionnelle : 240 m/min Rayon d'action : 2 170 km Armement Interne : 1 450 kg de bombes Externe : 1 canon de 75 mm, 14 mitrailleuses Browning M2 de 12,7 mm, 8 roquettes de 127 mm (B-25H/G)et jusqu'à 18 mitrailleuses de 12,7 mm sur les versions nez plein J
B-25J Mitchell Old Glory Walk Around
Photographer
Alan Davilla
Localisation
Unknow
Photos
58
Related kits: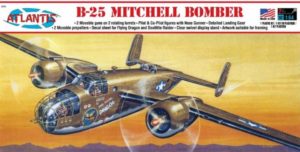 B-25 Mitchell Bomber
Atlantis Model Company
H216
1:64
Full Kit
Clic for Search
North American B-25J Mitchell Walk Around
Photographer
Unknow
Localisation
Unknow
Photos
45
Find kits on eBay:
Search on eBay
Search for what you need, We suggest this but it is you who decide
...
North American B-25N Mitchell
Photographer
Cees Hendriks
Localisation
Unknow
Photos
146
Views : 5857