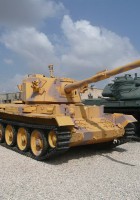 FV 4101 Charioteer

Country
UK
Type
Tank destroyer
Topic

Album

139

photos du «FV 4101 Charioteer »
Le Charioteer est un chasseur de chars britannique construit dans les années 1950 sur la base du char Cromwell. Au début des années 1950, pour augmenter la puissance de feu des unités du Royal Armoured Corps, certains Cromwells furent équipés d'une nouvelle tourelle abritant le canon Ordnance QF 20 pounder (comme certains chars Centurion). Le résultat fut nommé FV 4101 Charioteer tank destroyer. Approximately 200 Cromwells were converted by Robinson and Kershaw Ltd in Cheshire. In practice, the British used the Charioteer that, in their reserve forces (the territorial Army) and during the 1950s most of them were sold to Austria, Finland, and Jordan.
Source: FV4101 Charioteer on Wikipedia
Wait, Searching FV 4101 Charioteer photos for you...
Wait, Searching FV 4101 Charioteer for you…
Related kits:
Find kits on eBay:
Search on eBay
Search for what you need, We suggest this but it is you who decide
You can see also :
Views : 832
Find by:
fv 4101 charioteer
charioteer walkaround
fv4101坦克
fv4101
charioteer panzer
petit chirioteer
modelado de auriga
Messerschmitt Me 4101/72
FV4101克伦威尔
FV4101 Charioteer
06DN
fv 4101 charioteer uk
fv 4101 charioteer tank destroyer
charioteer fv4101
thethe hansa lloyd goliath