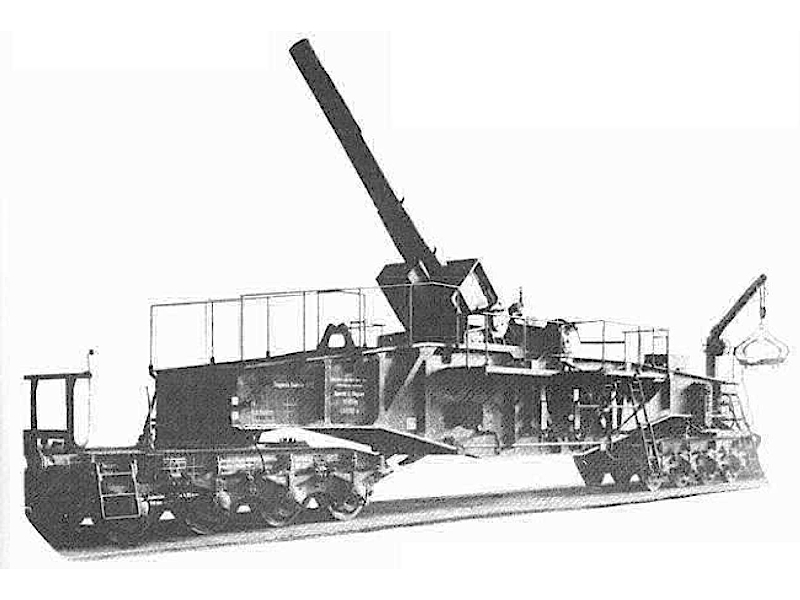 Krupp K5

Topic
Photos of the gun Krupp K5
Period
Ww2
Topic

Album of

62

photos of the gun Krupp K5
The Krupp 28-cm-Kanone 5 (E), in short K5, was a heavy railway gun used by Germany throughout World War II. The Krupp K5 series were consistent in mounting a 21.5 metres (71 ft) long gun barrel in a fixed mounting with only vertical elevation of the weapon. This gondola was then mounted on a pair of 12-wheel bogies designed to be operated on commercial and military rails built to German standards. This mounting did not permit any degree of horizontal traverse, but instead the carriage had to be aligned on the rails first, with only minimal fine leveling capable once halted. Hence the gun could only fire at targets tangential to an existing railway track.
Source: Wikipedia
Wait, Searching Canon Krupp K5 photos for you for you…

Spécifications technqiues Weight : 218 t (215 long tons; 240 short tons) Length Travel: 30 m (98 ft) Combat: 32 m (105 ft) Barrel length : 21.539 m (70 ft 8 in) L/76.1 Shell 255 kg (560 lb) Caliber : 283 mm (11.1 in) Elevation : +50° Traverse : 1° Rate of fire : 15 rounds per hour Muzzle velocity : 1,120 m/s (3,675 ft/s) Maximum range : 50 km (31 mi)
Find kits on eBay:
Search on eBay
Search for what you need, We suggest this but it is you who decide
You can see also :
Related kits:
Views : 3651