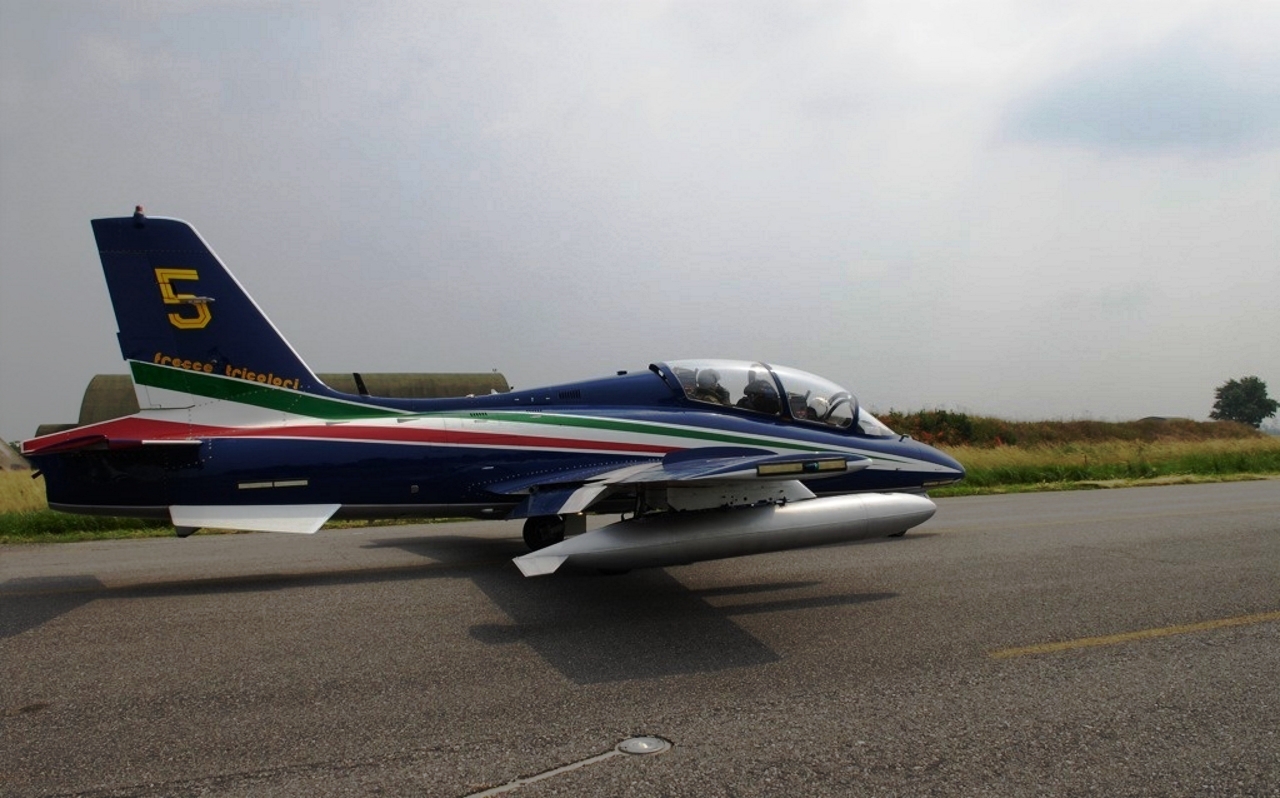 Aermacchi MB-339

Land
Tilbud på hoteller i Italia
Rolle
Avansert trener og lett angrepsfly
Første flytur
12. august 1976
Bygget
230
Den Aermacchi MB-339 is a military jet trainer and light attack aircraft designed and manufactured by Italian aviation company Aermacchi. The MB-339 was developed during the 1970s in response to an Italian Air Force requirement that sought a replacement for the service's existing fleet of Aermacchi MB-326. Its design was derived from that of the MB-326, rather than a new design, and thus the two aircraft share considerable similarities in terms of their design. Aermacchi had found that the MB-339 was capable of satisfying all of the specified requirements while being the most affordable option available. The maiden flight of the MB-339 took place on 12 August 1976; the first production aircraft were delivered two years later.
Kilde:

Aermacchi MB-339 på Wikipedia
Aermacchi MB-339CB Walk Around
Photographer
Vladimir Yakubov
Localisation
Nellis Air Force Base
Photos
123
Vent, Søker Aermacchi MB-339 for deg ...

Finn sett på eBay:
Søk på eBay
Søk etter det du trenger, Vi foreslår dette, men det er du som bestemmer
Aermacchi MB-339 PAN Walk Around
Photographer
Unknow
Localisation
Unknow
Photos
43
...
Vent, Søker lette angrepsfly for deg ...

Relaterte sett:
Mer info:
The Aermacchi MB-339 is a military jet trainer and light attack aircraft designed and manufactured by the Italian company Aermacchi. It is a development of the earlier MB-326, featuring a more powerful engine, a redesigned cockpit and wing, and improved avionics. The MB-339 entered service with the Italian Air Force in 1979 and has been exported to several countries, including Argentina, Dubai, Eritrea, Ghana, Malaysia, New Zealand, Nigeria and Peru. The MB-339 is also used by the Frecce Tricolori aerobatic display team of the Italian Air Force.
The MB-339 has a tandem-seat configuration, with the instructor sitting behind the student. The cockpit is equipped with a head-up display (HUD), multifunction displays (MFDs), and an integrated navigation and attack system (INAS). The aircraft has a single turbofan engine, the Rolls-Royce Viper Mk. 632-43, which provides a maximum thrust of 17.8 kN (4,000 lbf). The MB-339 has a maximum speed of Mach 0.82 (898 km/h or 558 mph) at sea level and a service ceiling of 14,630 m (48,000 ft). The aircraft has a range of 1,650 km (1,030 mi) with external fuel tanks.
The MB-339 can carry up to 1,800 kg (4,000 lb) of weapons on four underwing hardpoints and two wingtip rails. The aircraft can be armed with various types of bombs, rockets, missiles and gun pods. The MB-339 can also perform light attack missions with precision-guided munitions such as laser-guided bombs and anti-tank missiles. The MB-339 has a nose-mounted 12.7 mm (0.50 in) M3P machine gun with 350 rounds of ammunition.
The MB-339 is a versatile and reliable aircraft that can perform various roles such as basic and advanced training, close air support, counter-insurgency, reconnaissance and patrol. The MB-339 has proven its capabilities in several conflicts and operations around the world, such as the Falklands War in 1982, the Eritrean–Ethiopian War in 1998–2000 and the UN peacekeeping mission in Mali in 2013–2014.
Views : 2195