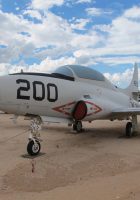 Lockheed T-1A

Paese
USA
Tipo
Velivoli da addestramento
Fotografia
Vladimir Yakubov
Individuare
Pima Air and Space Museum, Tuscon
Descrizione
Album di

133

foto di piedi di un «Lockheed T-1A»
Galleria fotografica di un Lockheed T-1A, The Lockheed T2V SeaStar, later called the T-1 SeaStar, was a turbojet trainer aircraft for the U.S. Navy that entered service in May 1957. It was developed from the Lockheed T-33 and powered by one Allison J33 engine.
Fonte: Lockheed T-1A su Wiki
Attendere, Ricerca Lockheed T-1A foto per voi...
Attendere, Ricerca Lockheed T-1A per voi...
Correlati kit:
Trovare i kit su eBay:
Cerca su eBay
Ricerca di che cosa avete bisogno, Noi suggeriscono questo, ma sta a voi decidere
Si può vedere anche :
Vista : 1267
Trovare da:
f-80c walkaround
L-1011 walkaround