Fine Molds

Sujet

IJN NAKAJIMA Special Attacker SHISEI KIKKA

Scale
1/48
Ref
FB10
A model of the brand Fine Molds the kit IJN NAKAJIMA Special Attacker SHISEI KIKKA – Fine Molds FB10
Referring to the Me262 jet fighter technical documents have already been put into practical use in the Air Force in Germany at that time, Tachibana flower design has been started in July 1944 as Japan's first jet aircraft. Since the design change was repeated by changing the engine and equipped with shortage of materials, first flight of a Unit will be August 7, 20 In addition, the decision hard without a request from the Navy plan. The first jet flight was successful in Japan, after four days of testing should be flying and the second will fail to liftoff. Aircraft is damaged, we reached the end of the war as it is.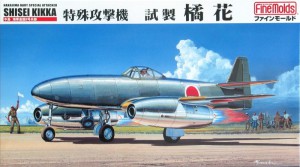 Wait, Searching Fine Molds FB10 for you…

Find kits on eBay:
Search on eBay
Search for what you need, We suggest this but it is you who decide
Wait, Searching IJN NAKAJIMA Special Attacker SHISEI KIKKA for you…

...
Related kits:
Views : 1087