Fine Molds

Ref
FB3
Type
Model
Scale
1/48
Topic

IJA Type 1 Fighter II NAKAJIMA Ki-43-III KOH OSCAR
A model of the brand Fine Molds the kit IJA Type 1 Fighter II NAKAJIMA Ki-43-III KOH OSCAR – Fine Molds FB3
Falcon fighter set fighter who fought as the Army's mainstay throughout the entire period of World War II, the last production type that is three armor type. Seek to meet the front line aircraft faster, equipped with a single exhaust pipe, such as water-methanol injection and thrust formula, providing increased speed of about 50km / h compared to about two types. Was preferred to the pilot, coupled with high reliability and excellent mobility. Philippines, Burma, was without fight until the end of the war in China and elsewhere since the end of 1944.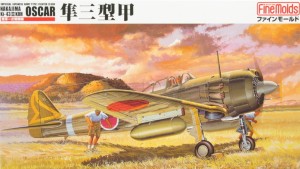 Wait, Searching NAKAJIMA Fighter for you…

Wait, Searching Fine Molds FB3 for you…

Find kits on eBay:
Search on eBay

Search for what you need, We suggest this but it is you who decide

...
Related kits:
Views : 912