Fine Molds

Sujet

IJA Type 1 Fighter II NAKAJIMA Ki-43-II MANCHOUKUO

Scale
1/48
Ref
FB9SP
A model of the brand Fine Molds the kit IJA Type 1 Fighter II NAKAJIMA Ki-43-II MANCHOUKUO – Fine Molds FB9
Fighter of Japan's Greater East Asia War of the Navy, along with Zero Fighter is the peregrine falcon. Armed with highly practical performance and supple movement, was fighting as a mainstay of the Japanese Army fighter throughout the entire period of the Greater East Asia War. Type two is the type for which it was leading in the mid-war, the aircraft will be used Manchukuo was founded at that time and (the northeastern part of China now), the Air Force Thailand allies, and even that was requisitioned by the military Chinese Communist Party even after the Japanese surrender has been used in the Chinese civil war is. ※ "Pt.2 Manchuria Army Air Corps two peregrine falcon type FB9SP" because of the limited edition was filled with special specification marking, as soon as stock is gone, will be discontinued. In addition, since the specification included only special marking, aircraft of the package can not be reproduced illustrations. Please acknowledge it beforehand.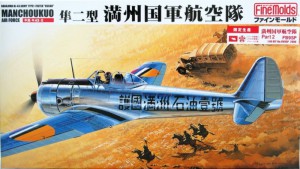 Wait, Searching Fine Molds FB9SP for you…

Find kits on eBay:
Search on eBay

Search for what you need, We suggest this but it is you who decide

[ae_affiliate_byphil keyword="NAKAJIMA aircraft"] ...
Related kits:
Views : 1093